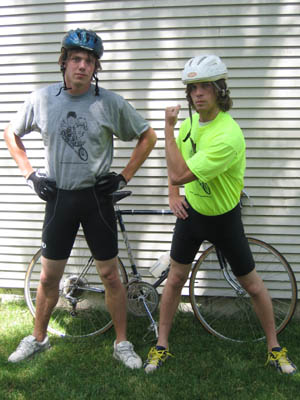 This summer, Grant Knudson and James Carr will be embarking on an epic journey across the United States. The adventure will test their self-resolve, character, and ability to navigate a road bicycle over 3,300 miles of American soil. The journey will be long and hard, and although the trip has met with its fair share of criticism and doubt, the duo remains confident that they will depart San Francisco on July 21, 2005 and arrive in New York on September 13th. For more details, check out the Tour Itinerary.
While on this cross-country adventure, the twosome hopes to raise as much money as possible for the Make-A-Wish Foundation of Idaho so that the dream of one (maybe more) lucky child may be fulfilled. They are sponsoring a young girl named Anessah, who is 3 years old and battling Rhabdomyosarcoma, a soft tissue Cancer. She has a younger sister and loves all princesses and animals. Her wish is to go Disneyland so we are scheduling her trip for October when it is cooler and less crowded. If the wish of Anessah is to be realized, there is still a great deal of work ahead of us all.
In an effort to promote World Peace, the journeymen will also be riding in association with Rotary International. This selfless organization will be providing the expert cyclists with occasional food and lodging along the way.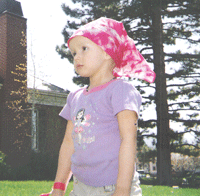 "Share the Power of a wish."
With all of this in mind, Grant and James will be selling t-shirts to commemorate the event, with 100 percent of the proceeds benefiting Make-A-Wish. And you can bet these t-shirts are going to be the hottest item in your closet. To BUY a t-shirt, click on the link to the left of the screen (BUY NOW) and choose between an assortment of fabulous colors, ranging from the traditional white and grey to the limited edition fluorescent yellow. After we receive your payment, you will receive a confirmation e-mail requesting your size and color choice. The shirts will be shipped to your given address as soon as possible. If you are intimidated by the internet or prefer an old fashion letter and check, please send checks to:
Grant Knudson/James Carr
If you lack the $20 and are unable to buy a totally radical t-shirt, perhaps you can afford to make a motivational phone call while the duo manages a large chunk of wasteland known as the Midwestern United States (just kidding, we love all of America, Latin America included). For those of you uninterested in a t-shirt, but willing to make a monetary contribution, simply click on the donate button and trust your instincts. Thank you for your time.
Sincerely,
James Carr and Grant Knudson
Expert Cyclists
P.S. Remember, this bike ride is for the kids, so be generous.
Research
Make-A-Wish
(
www.wish.org
) or
Rotary International
(
www.rotary.org
)
And a special thanks to
Sigma Chi
(
www.sigmachi.org
)
E-mail us at
jamesandgrantdoamerica@gmail.com
Also, Special thanks to
Affinity Web Development
for this state of the art website.