August 20, 2005 - Lawrence, KS to Lexington, MO - As we set out this fine early morning, James soon realized he had a flat rear tire. We headed to the local bike shop and ended up putting on a new Armadillo "extra thick" tire which was supposed to be indestructable. James got a flat 20 miles later. It turned out that he had ridden over a large metal object that pierced through his new tire and both sides of the inner tire tube.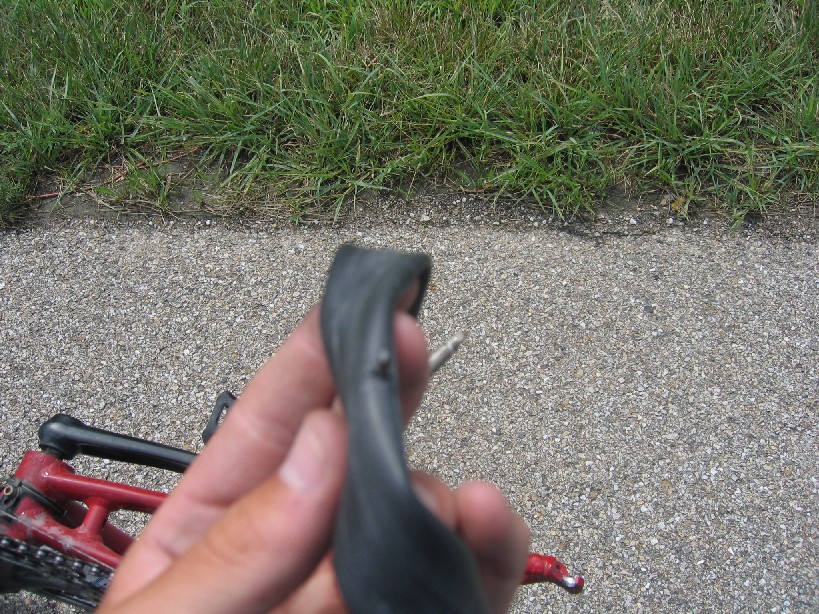 We hurried to fix the problem and met up with Stella and Sadie Sandquist for some lunch.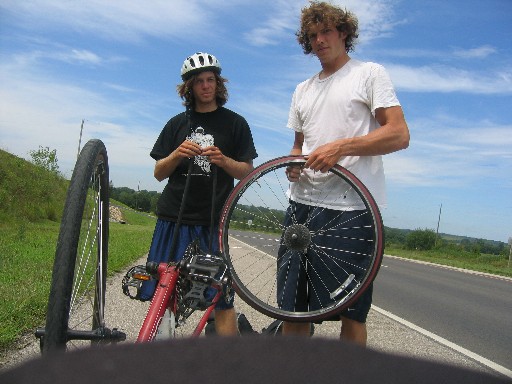 Stella was driving Sadie out to school from Pocatello and happened to be near Kansas City about the same time as us. We had some great conversation, enjoyed some bomb tacos, and Stella gave us a farewell by saying "Blog out dudes" and we took off. This is a new term that apparently can be used as a goodbye and everyone should add it to their vocab arsenal.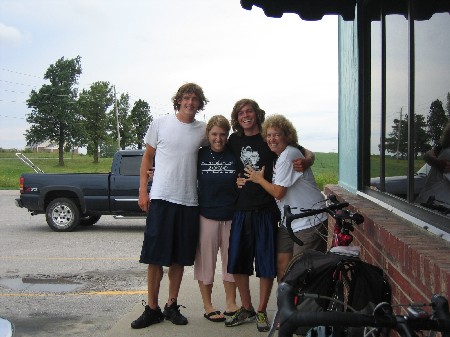 It was nice to see some familiar faces in the midwest and James thought it was great to have his abs felt by Stella.

Just west of Kansas City, we found a turtle in the road, seriously a green turtle.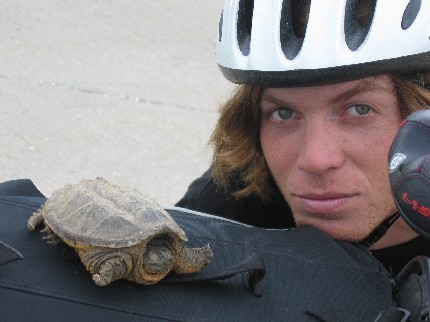 The turtle is obviously camera shy. James is obviously not camera shy.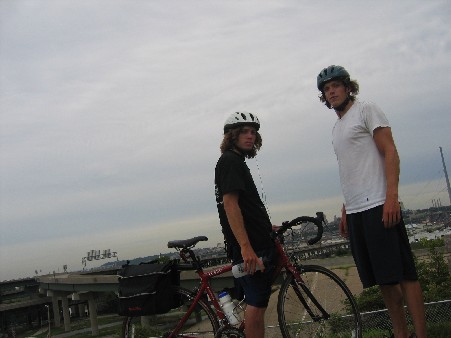 This is a view of Kansas City, it looked a lot cooler in real life.
A quick story: We asked a cop how to get across the river on a bicycle and she said you couldn't cross the bridges on bicycles and directed us to another nearby cop for a second opinion. We asked the second cop the same question and he replied "Go ask that woman over there, she knows more than me" and pointed to the first cop. We then found the route by ourselves. After that we felt very safe due to the vast knowledge of the local police.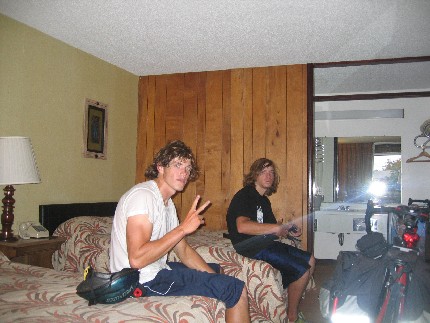 Anyway, our hotel room in Lexington came courtesy of Grandpa Knudson, which we appreciate very much. It had not been renovated, remodeled, and maybe even slept in since its creation in the early 1980s. It was a perfect place for us to stay. And yes, we need haircuts.


August 21, 2005 - Lexington, MO to Moberly, MO - An extremely uneventful day. About 98 miles in 6.5 hours of biking time. James actually rode about 104 miles due to a wrong turn onto old Highway 24, rather than new Highway 24. The extra miles definitely ended up paying off as several people complimented his exquisite leg definition. Once again we stayed at a Best Western that Grandpa Knudson very kindly arranged.
August 22, 2005 - Moberly, MO to Quincy, IL - We soon realized that Missouri and Illinois definitely don't have roads friendly to cyclists. They either don't have a shoulder at all, or the shoulder hasn't been repaired in decades. Missouri doesn't hesitate to inform you that it is the birthplace of Mark Twain. We passed Mark Twain's birthplace, his lake, national park, road, gift shop, and any other kind of tourist attraction you could imagine.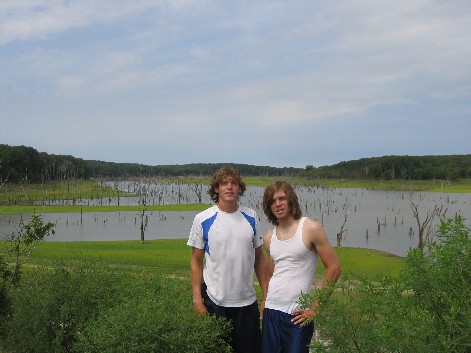 The North Fork of Mark Twain Lake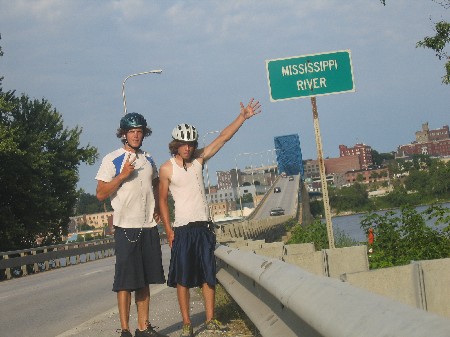 We then came upon the Mississippi River and decided to take the bridge rather than forge the river.

Our voyage across the great Mississippi River ended up being a success as we made our final descent into Quincy around 6:00 P.M. and met up with Bill Dooley, who graciously accepted us into his house. He teamed up with his grandson, Scott, and prepared the best BLTs that we have encountered the entire trip.


Bill Dooley is the man
August 23, 2005 - Quincy, IL to Springfield, IL -
The "service engine soon" lights had appeared on both our bikes, obligating us to take them into the local bike shop before we took off for Springfield. Elated to once again be riding on a fully functional road cycle, these same feelings of jubilation were quickly replaced by those of trepidation at the thought of riding the 120 mile distance to Springfield after such a late start (11:00 a.m.). An unrelenting wind and throbbing gluteus maximuses succeeded in draining our time, motivation, and energy, but even as the sun began to creep below the chiseled outline of our finely tuned bodies, we remained confident that we would reach the outer city limits of Springfield in time to enjoy a bagel and casual cup of tea at one of the many local downtown establishments still struggling to defy "the man" and defeat corporate America. However, as fate would have it, something went wrong...terribly wrong. Given the location of the sun in the sky and the favorable shift in the wind, we'd say it was 7:30, and there's no chance that we're wrong. Grant was, as we both recall, listening to Freakonomics, a book on tape, while James was enjoying a tasteful dose of Leonard Cohen. Both cyclists, irresponsible in their decision to plug their ears rather than cautiously survey their surroundings, were completely unaware of the developing situation. James died. Just kidding. Though alive, he is still recovering from Mother Nature's indifference towards humanity. Somewhere out there on that long and lonely highway our two heroes did battle with the Hounds of Hell. On that fateful evening at 7:29 p.m. James and Grant were nothing more than a pair of pompous prima donnas. Just one minute later they would transcend the realm of mortality and enter into that of immortality. That's not to say that losses on both sides were not incurred. Our dear James, in a shock more to himself than anyone else, failed to come away unscathed. Flanked from the right, his ferocious assailant, drew first blood, and although it would ultimately be the only blood, James likes to maintain that he won the battle. The big black dog, or Hound of Hell, "took a @#$%&!# cheap shot while I was on my bike."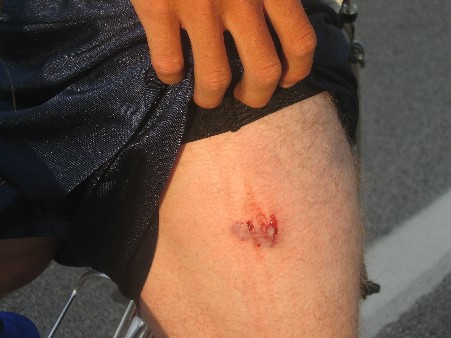 The dog may have taken a cheap shot, but it was effective.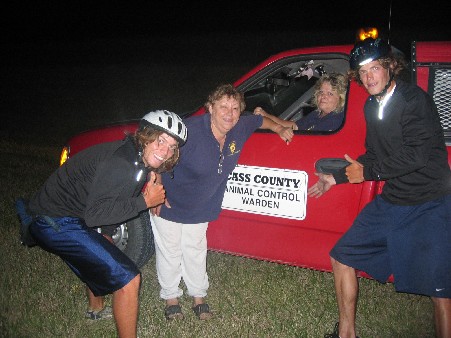 Tracy, the animal control warden, was very concerned about James' leg, but the dog, unfortunately, got nothing more than a slap on the wrist. Following a totally unprovoked attack, the dog is looking at 10 days under house arrest. He must share Martha Stewart's lawyer.

August 24, 2005 - Springfield, IL -
Once again Rotary International came through big time with a great place to stay for us in Springfield. We were greeted last night by Rotarians Adam Reiss and Jerry Curry. We are staying with Adam, who kindly let us stay in his guest room.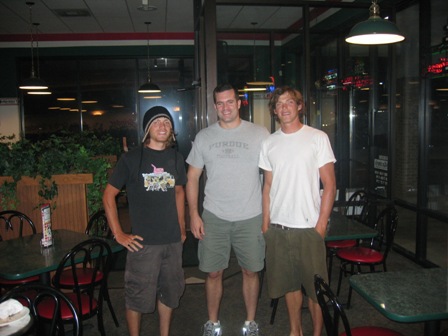 Adam Reiss was a fantastic host and we can't thank Rotary enough.
We woke up this morning around 9:00 and enjoyed a nice bowl of Corn Chex as we watched a History Channel special on the amazing life of Evel Knievel. We spent the day filling ourselves with facts and information about Abe Lincoln at the newly constructed Abraham Lincoln Memorial Museum and Library, which had a price tag of $150,000,000.00.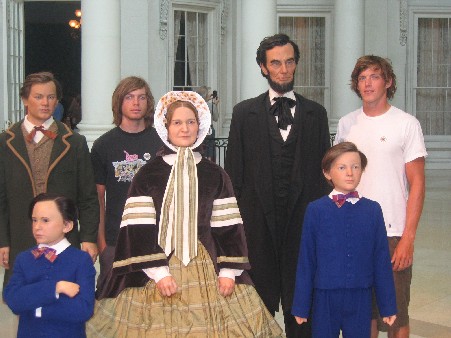 Surprisingly, Abe and his family made a guest appearance at the museum. Abe obliged to a photo opportunity and even made a donation to support our cause! He only gave a dollar, but if you take inflation into account, this was actually about a $30 donation. Way to go Abe!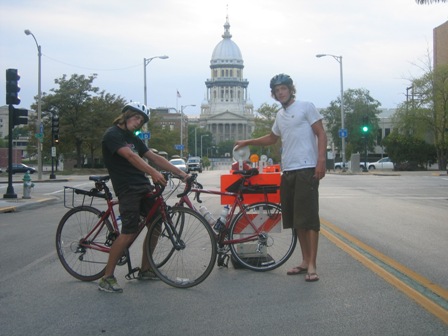 We seem to be hitting a lot of state capitals and Springfield's just happened to be on our way home from the museum. We also seem to be hitting a lot of construction, which we also encountered on our journey home...but the big orange construction cone made a great place to set the camera.
August 25, 2005 - Springfield, IL to Champaign, IL -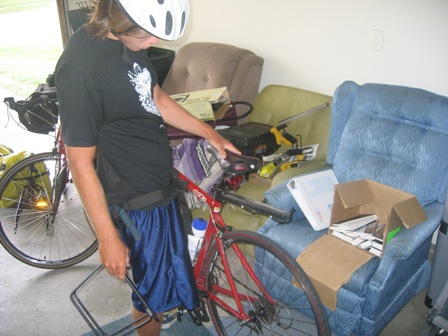 We were ready to take off early Thursday morning but James had a problem with his bag holder. We didn't bring our welding equipment with us so we had to go to a bike shop for the second day in a row. In Champaign, we looked around for a cheap hotel in the area but all we could find was the Hawthorne Suites. We hesitated to even enter this fine establishment because it was atleast 12 times nicer than the hotels and motels where we were previously staying. We finally made the courageous venture into the lobby and found out the rooms start at $119, but since we were on bikes it was pushed down to $79. After further persistence and the use of our fine tuned bargaining skills we ended up getting a room for $55, which was picked up by Redding, California's "Mauler".
Au
gust 26, 2005 - Champaign, IL to Crawfordsville, IN -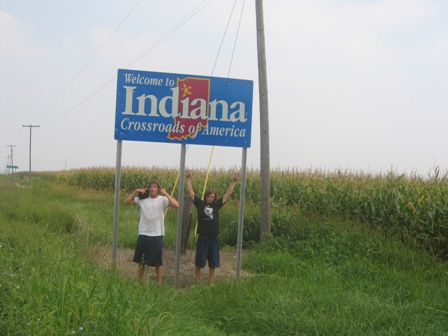 Another state down and we made our trek through more corn fields in Indiana.
The third day in a row with a morning bike shop stop. Grant broke another spoke yesterday and his tire was rubbing against the frame of his bike for the last 40 miles into Champaign.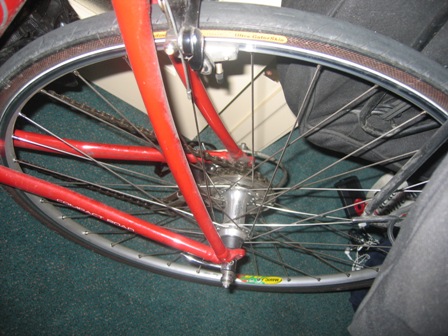 Durst Bike shop decked out his bike with a new chrome back wheel and back tire....$175 later we were back on the road.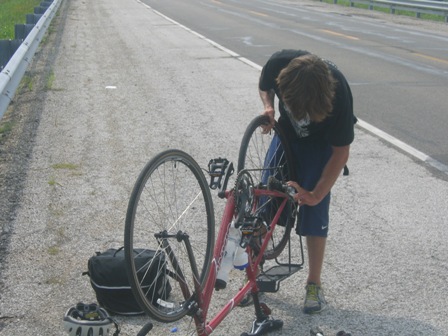 James got another flat tire. Apparently the Armadillo tires are no match for a safety pin.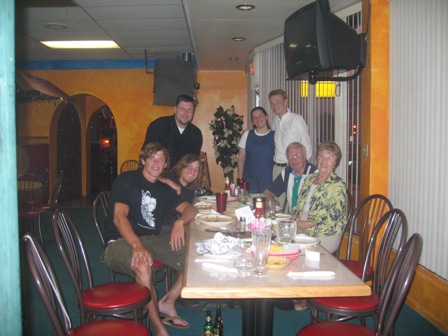 Rotary International is a fabulous organization and we can't say enough great things about their members. Carl Burkhart, President of the Crawfordsville Rotary Club, and his family took us out to the Little Mexico restaurant for some authentic Mexican cuisine. We also had a newspaper interview over dinner that was published in the Crawfordsville paper.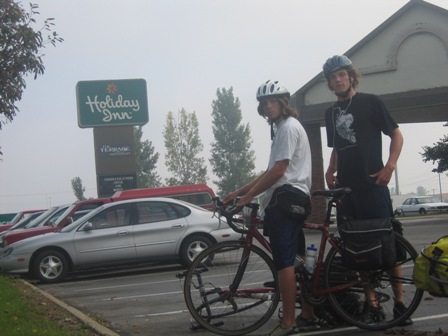 Carl also contacted Paul Parry, the manager of the Holiday Inn and fellow Rotarian, who hooked us up with a complimentary room and breakfast. It really helps out to have a nice place to sleep so our legs can rest up for the next day of cycling. Our legs felt amazing after our stay in this Holiday Inn.
August 27, 2005 - Crawfordsville, IN to Indianapolis, IN -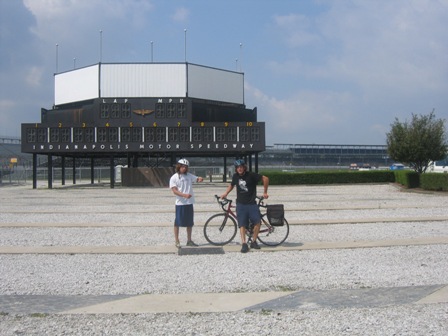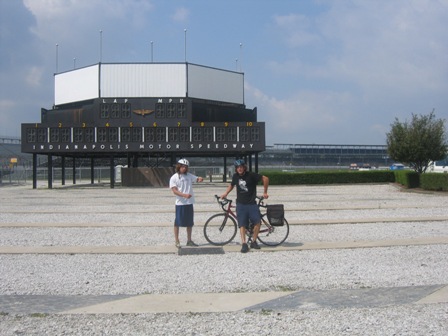 Indianapolis Motor Speedway - We felt a little out of place with our bicycles in these parts because of the vast popularity of auto racing. There has been an exponential increase in the amount of people sporting Dale Earnhardt Jr. and Jeff Gordon shirts, jerseys, and hats. Not many people see a point in pedalling after the invention of the engine.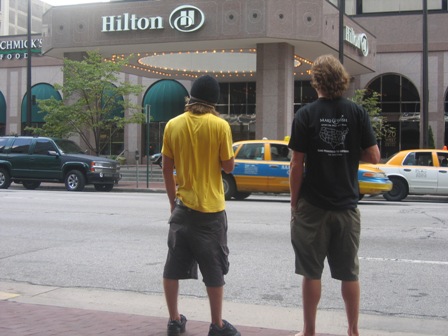 Rotary has been coming through with some serious hotel connections. Bill Stanton, generous Rotarian and also Manager at the Downtown Hilton was kind enough to give us a complimentary room for the night. We must also give a shout out to Susan Harmless, who made our stay in Indianapolis possible.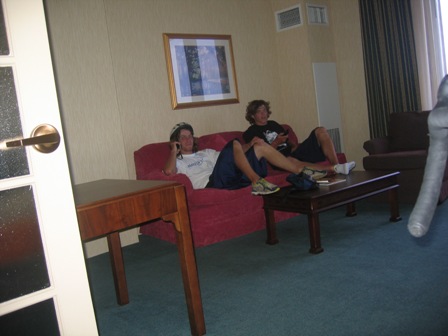 We got to kick back and make some phone calls from our room. It's the weekend so we get free minutes on our cell phones, which usually results in random calls to most of the people in our phonebooks.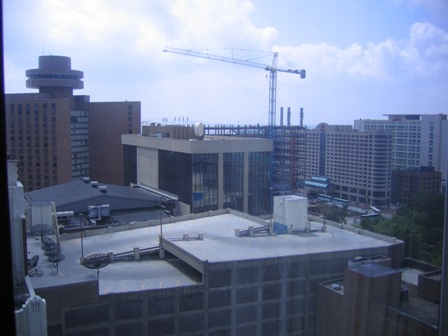 Downtown Indianapolis from the 14th floor of the Hilton.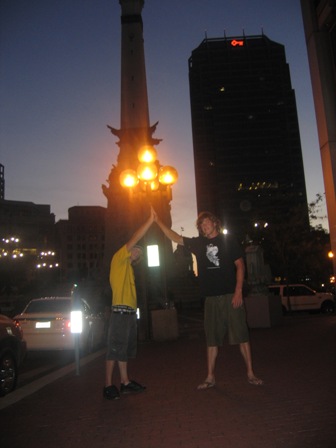 Downtown Indianapolis from street level -
Once again a high five felt necessary for our downtown Indianapolis experience.....Mike Plank, congratulations on your WU football receiver job, now buy a shirt like you said you would. Thanks bro.

August 28, 2005 - Indianapolis, IN to Richmond, IN -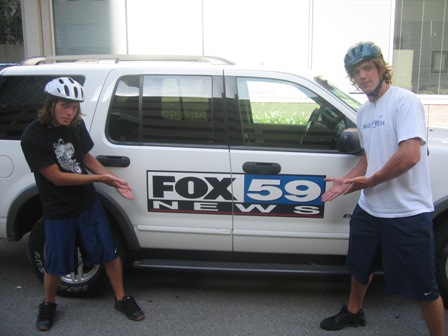 We had an early morning interview with Fox News 59 before our trip to Richmond. If any of you receive Indianapolis channels you might want to record this one. We must give a special thanks to Briggs Adams at the CGI Group who is constantly arranging interviews for us along the way.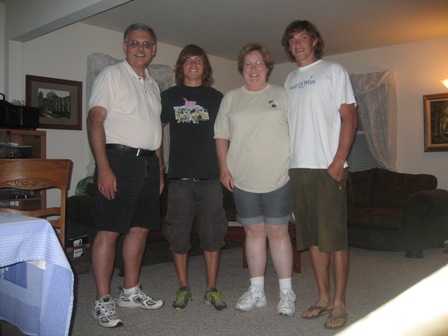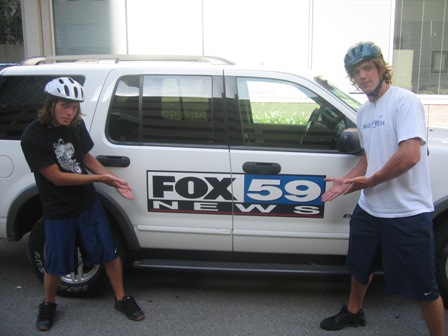 Diane, an avid Rotarian, and her husband Mike set us up with a wonderful place to stay while we were in Richmond. We arrived and quickly had some Coca-Cola to quench our thirst and make sure we avoided dehydration. After some nice showers we checked out the Great Wall Restaurant for Chinese food, which turned out to be the best Chinese we had encountered the entire trip. Diane also set us up with a news interview with the local paper, the Palladium-Item, which we felt was one of our best interviews. We were also quite pleased to clear up any confusion regarding the color of the blanket on the couch...it was green Mike. Thanks! The Palladium-Item just published the article: http://www.pal-item.com/apps/pbcs.dll/article?AID=/20050902/NEWS01/509020310&SearchID=73219441812409
August 29, 2005 - Richmond, IN to Columbus, OH - This was a 111 mile day of pure, unadulterated fun. We missed the rain that seemed to be everywhere around us and even with the loss of an hour due to the transition to eastern time we arrived in Columbus around 7:00 PM. We were greeted by Melissa and Angela (Melissa is Grant's 2nd cousin or something like that from his mom's side of the family) who treated us to some Tommy's Pizza and Buckeye Blitz ice cream.

August 30, 2005 - Rest Day in Columbus, OH - Since we are ahead of schedule and our accommodations in NY won't be available until our original arrival date of the 13th, we are slowing down a bit and may take a few extra rest days so we can fully experience the midwest and east coast. This was also haircut day. We got a great deal at Aniara, a fabulous hair salon where Melissa had some friends that ended up being hair styling magicianettes.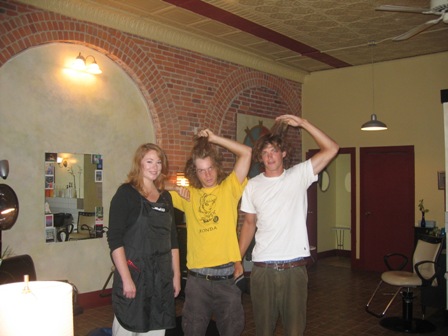 Our hair was pretty outrageous and we were ready for a change. Grant wanted to borrow a few bucks from James to pay for the cut, so he tried to steal it during this picture.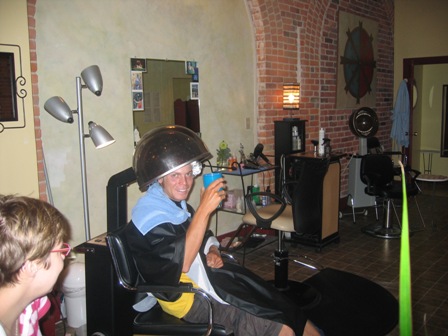 James got his hair started first since he was going for a totally new look and enjoyed a soda as he sat under this big plastic semi-sphere. Tension mounted in the hair salon as everyone anxiously awaited the results of James' makeover.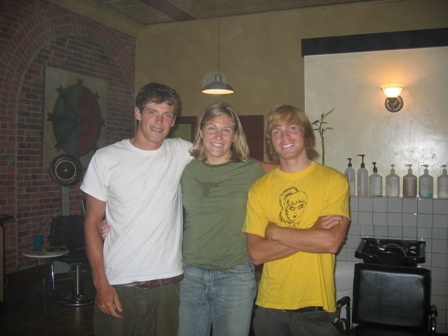 Although Melissa's hair is in much better shape than ours, we both were happy with the final results. James lightened his hair a few shades while having it thinned out, and Grant got a cut that pretty much just made him look like a little kid.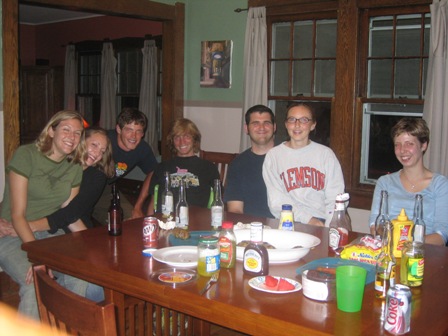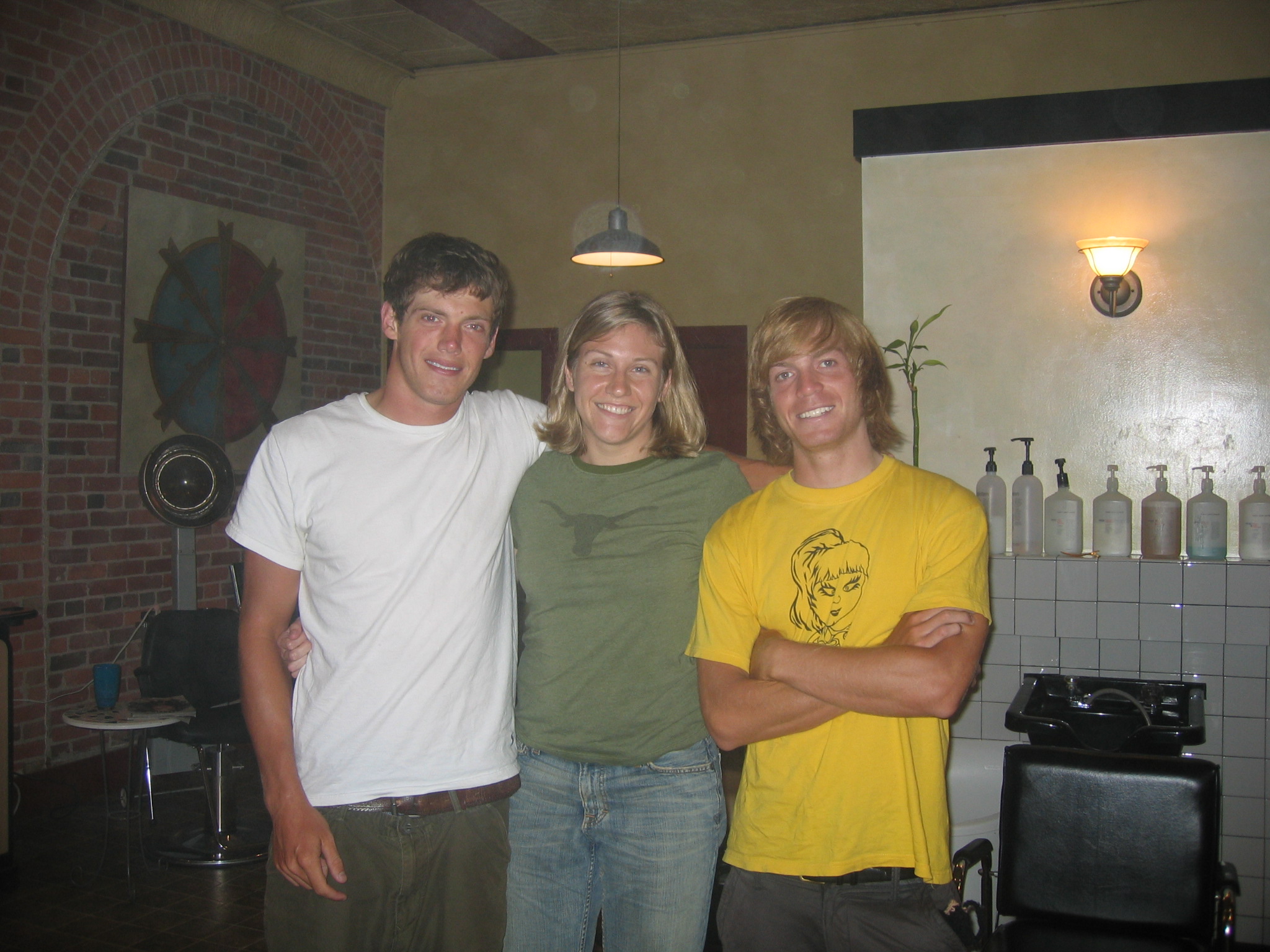 Melissa and Angela had an Ohio style BBQ for us and invited some friends over who were all very supportive of our cross country adventure. Brian and Carrie were very enthusiastic about our shirts and will hopefully soon be sporting them around Columbus...and maybe even Germany, and Anne (far right) is responsible for the discount on our fabulous new hair styles.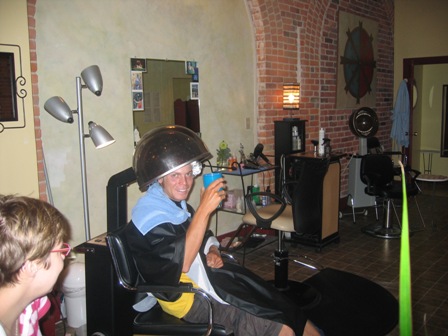 August 31, 2005 - Columbus, OH to Delaware, OH - Luckily it rained our entire day off and we had a clear day of riding up to Delaware, Ohio where James had a connection with a friend of a friend, Mr. Jon Neckers. Jon let us crash at his place and we were hooked up with some great meals from Rick, the cafeteria cook.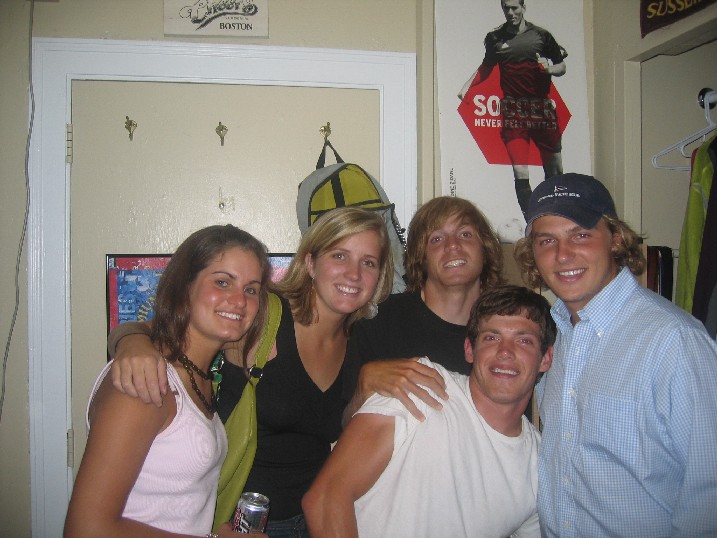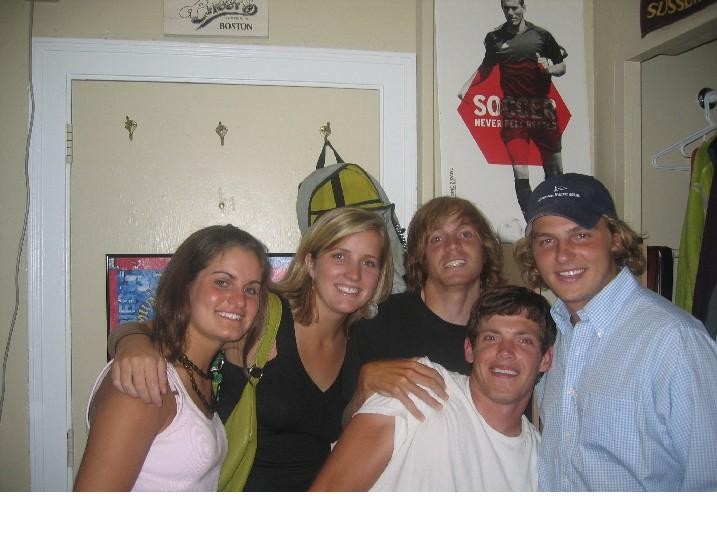 Neckers is full of hospitality, he had friends visiting from all over and managed to show everyone a great time. We got to find out what Ohio Wesleyan was all about.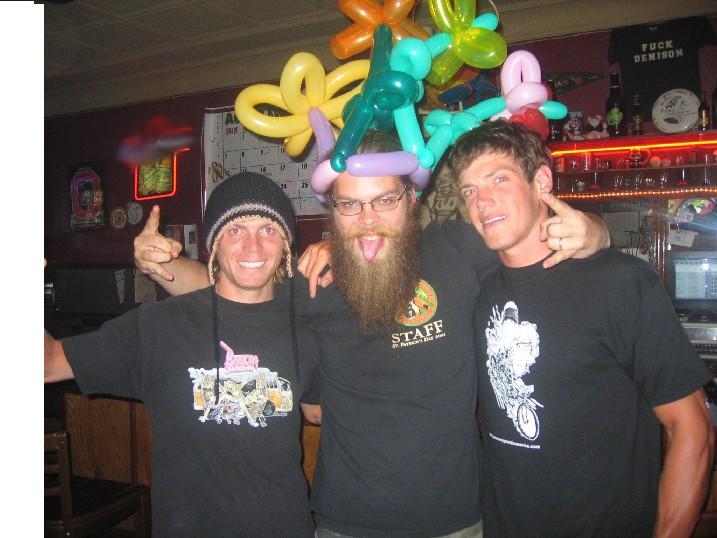 This guy was just way too cool not to put on the blog. If you think his balloon hat is good, you should see his balloon animals.

September 1, 2005 - Rest Day in Delaware - We figured that since we had a free place to stay in Delaware we would hang out for a day and sit in on some classes to refresh our minds. It also helped us to get closer to our planned schedule.
September 2, 2005 - Delaware, OH to Zanesville, OH -
This was a fairly easy day. We had a nice tail wind and went about 70 miles in 4 hours. We were determined to find a hotel with a jacuzzi to help out our legs, but the Comfort Inn's cheapest rooms were 94 bucks. This is when we decided it was "let's make a deal time" and with persistence and charm we were able to get the room down to $49.99. This room courtesy of Stella Sandquist...thanks a million!
September 3, 2005 - Zanesville, OH to Wheeling, WV -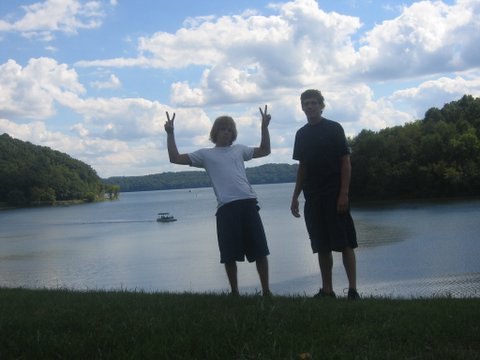 The was plenty of water around, but unfortunately we were out of drinking water. Luckily a gas station was only about another mile down the road. Also, notice James flashing the double peace sign in an effort to promote world peace. Thanks Rotary.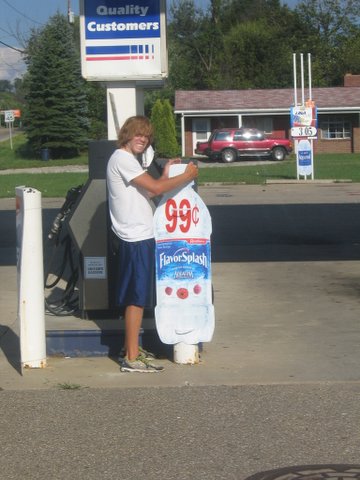 This is the first sign we look for when we pull up to a gas station to refuel.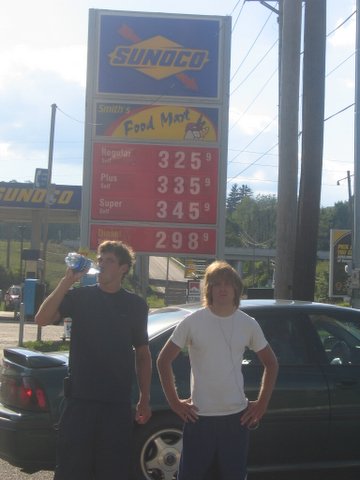 We are much more in tune with Powerade, Gatorade, and h2o prices rather than the high gas prices everyone is complaining about. 32 ounces of Powerade is going for about 99 cents, but we believe some stores are price gouging and trying to charge us $1.79, which we refuse to pay.
September 4, 2005 - Wheeling, WV to Pittsburgh, PA -

We were greeted in Pittsburgh by Jim Wood, a 3rd generation Rotarian, and his family. Jim is a fantastic chef and prepared some amazing salad and lasagna. It was extremely nice to have a home cooked meal. Jim also took us for a cruise around Pittsburgh to get a feel for the Steel City, where there are no longer any steel mills.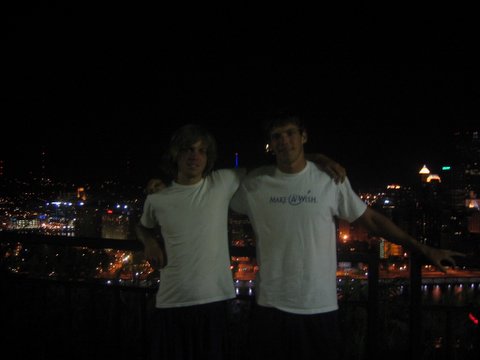 We had time for a friendly hug as we overlooked the beautiful night time view of downtown Pittsburgh.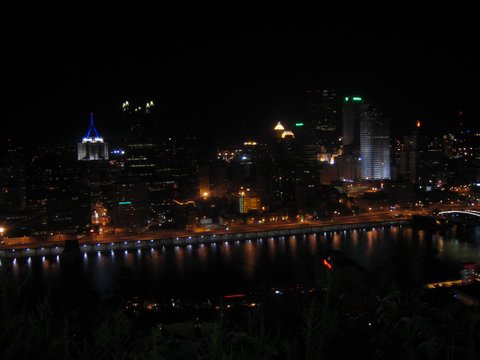 This is what you were suppose to see behind us, we are skinny little bikers, but not that skinny.
September 5, 2005 - Rest Day Pittsburgh, PA -
We have about 3050 miles on our bikes and we think that deserves a day of rest in Pittsburgh.
September 6, 2005 - Pittsburgh, PA to Johnstown, PA -
We headed out of Pittsburgh and battled traffic for about 30 miles until we stopped at Mcdonald's for a healthy lunch. Over lunch we talked about how we haven't been getting flat tires lately, then went outside to find that James had a flat back tire.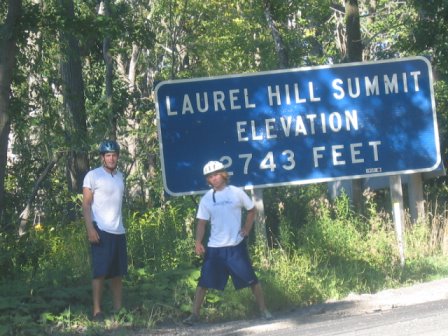 The hills in Pennsylvania are steeper than anything we have encountered, but shorter climbs. Notice James' wide stance here, this is a great position to get into when your legs are tired to ensure a stable base and decrease the risk of tipping over.
September 7, 2005 - Johnstown, PA to Chambersburg, PA -
Pennsylvania turned out to be much "hillier" than we expected. We went over numerous passes similar to the one shown in the picture above. Today was a very rough day since we had a late start, problems at McDonalds again (maybe we shouldn't eat there so much), and a 102 mile day.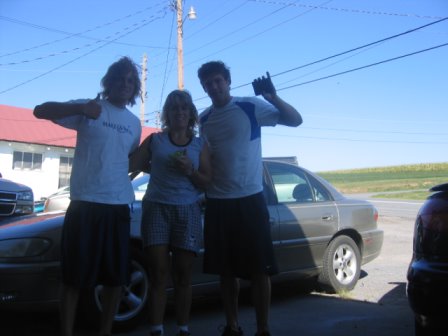 Not really the best picture but a great story. We were desperately in need of the internet since we hadn't had access in about a day and a half. As we coasted down a hill on Highway 56, about two miles from Highway 30, we saw a car dealership/fax and copy center. We decided to stop and see if the internet was available so we could find out where to ship our trailer, which we sold on eBay. Julie, the copy center manager/faxer/secretary/car salesperson kindly let us check what we needed on her computer. Shortly thereafter, we returned to mount our cycles when, to the suprise of everyone, Grant realized his wallet was nowhere to be found. After retracing his purchases, he feared there was a good chance that he had haphazardly misplaced it at the duo's early morning pit stop, a Johnstown Mcdonalds. Grant called 411 for the number and discovered that his wallet was safe and sound...26 miles back. We pondered our options and realized a car was the only way we could make this work. We asked Julie if we could test drive a car, but she had to go ask Sonny, the boss. She hopped on her four wheeler and cruised down the road to track down Sonny. It was only a few moments later when Sonny came rolling up in a huge tractor. We explained our story and offered to leave our bikes and iPods as collateral for the use of a Dodge Neon. He didn't bite. So we went back inside and asked Julie for a ride back to Johnstown . She obliged with a little sweet talking. We hopped in her self proclaimed "luxery ride", which was a Cadillac Catera, and headed back towards the golden arches. After about a 35 minute car ride, Grant was relieved to find the wallet in perfect condition. Julie and James jumped out of the car and joined Grant for a celebratory triple high five. That is the story of Grant and his lost wallet.
After the wallet mishap we were running late and had to put the pedal down to make it to Chambersburg before dark. We made it to the outskirts of the city just in time and were able to make it to our hotel around 9:30, but not before James suffered yet another flat tire. A flat tire which he was forced to pump every so often for the last few miles; a cumbersome task that we wish not even upon the worst of our enemies. We were exhausted from the long day so we grabbed some food and hit the sack.
September 8, 2005 - Chambersburg, PA to Harrisburg, PA -
We shipped out the trailer today and went to a local bike store to pick up some more tire tubes. We have had good luck lately so we only bought three, one for James' current flat and two spares. Needless to say, James got 4 flat tires today and once again we didn't make it to our destination on time. We think that the new tire tubes may have had a manufacturing flaw because of their uncanny ability to deflate. Luckily Barney and Rae, a delightful couple with whom Rotary put us in contact, were patient and had a delicious meal ready for us when we arrived.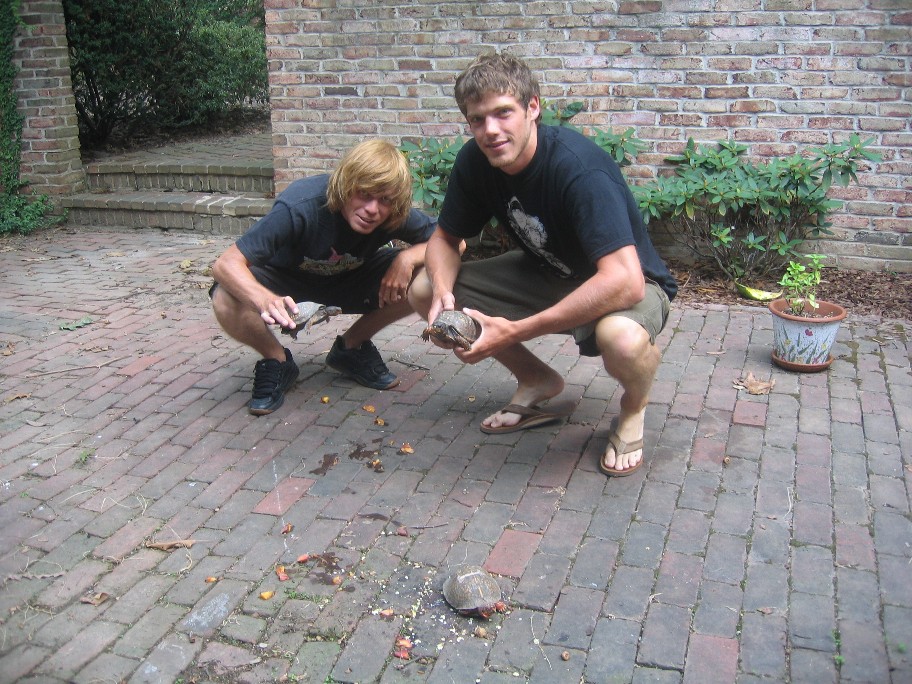 We got to check out a feeding session for Barney and Rae's collection of turtles.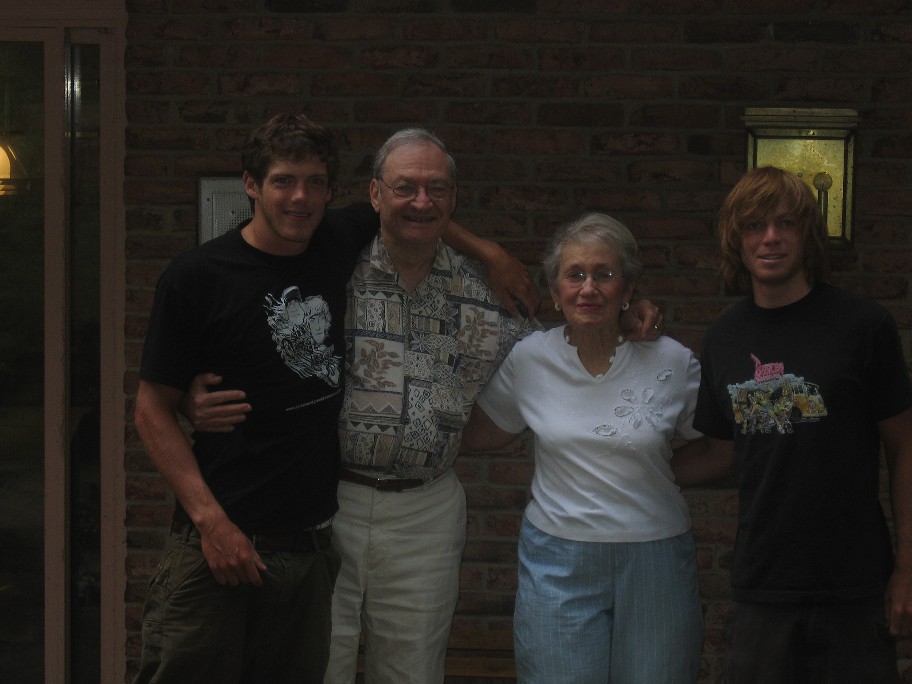 Barney and Rae gave us a great tour of Harrisburg, Pennsylvania's capitol city.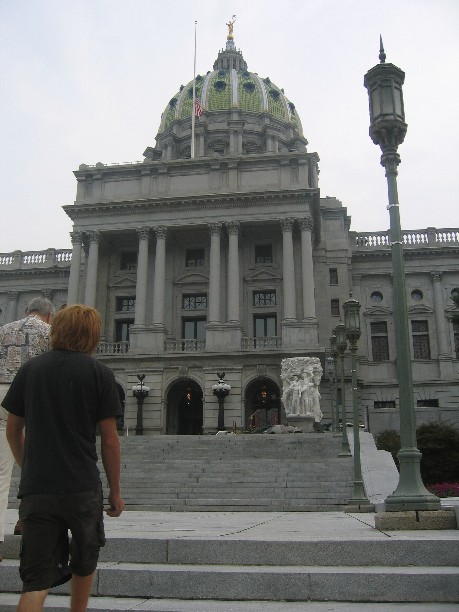 James struggles to climb the capitol stairs.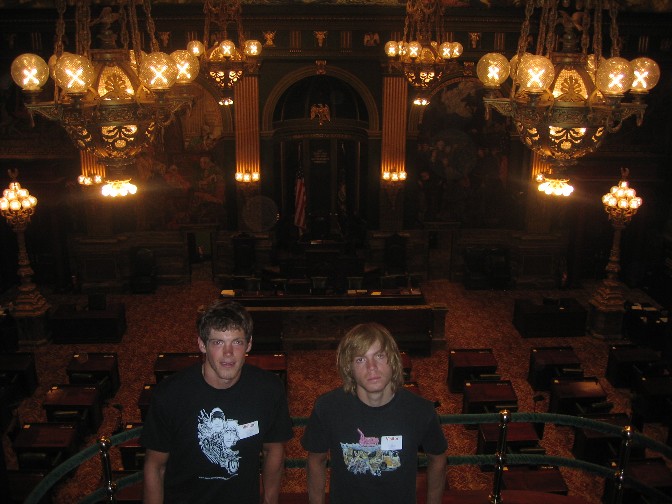 Inside the capitol, all of the chandaliers are made of crystal that produce X lights.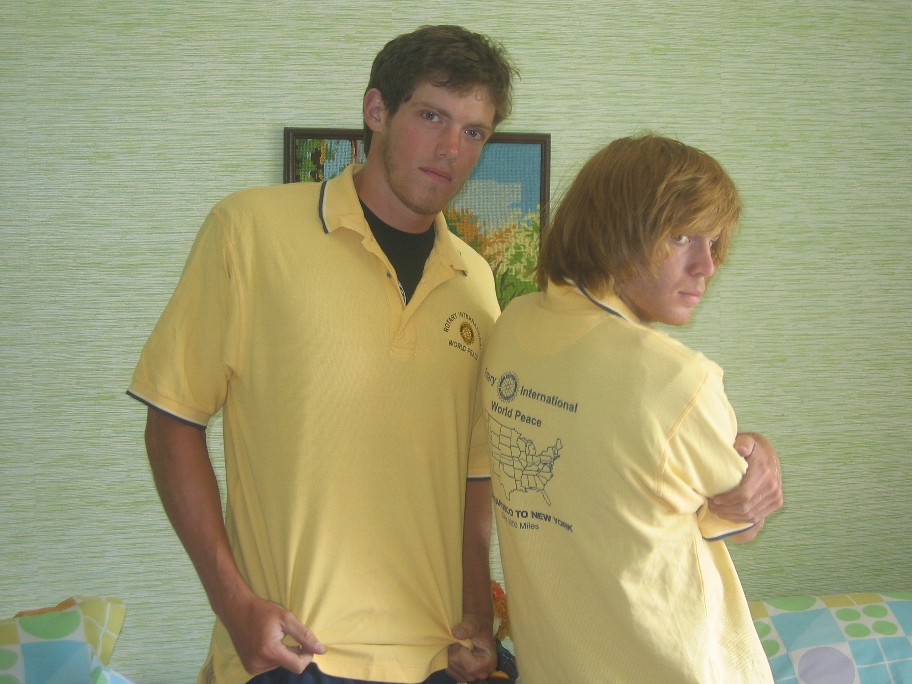 Now that we are close to arriving in NY, we practiced our modeling skills in our Rotary International shirts for World Peace.
September 9, 2005 - Harrisburg, PA to Allentown, PA - Made it to Allentown, then took a detour down to Philadelphia. James' friend, Phil, was kind enough to pick us up and show us the City of Brotherly Love. Big ups to the entire David family. Lynn and Patrick, our French Connection, made an absolutely incredible Sunday night dinner and although we never got to sit down for coffee hour with Patrick, we sampled a pot of his special recipe and it was GRRRRRRRRREEEEAAAATT!

September 10, 2005 - Philadelphia, PA Rest Day - We will be hanging out in Philadelphia today and then heading back up to Allentown tomorrow for the final stages of the trip.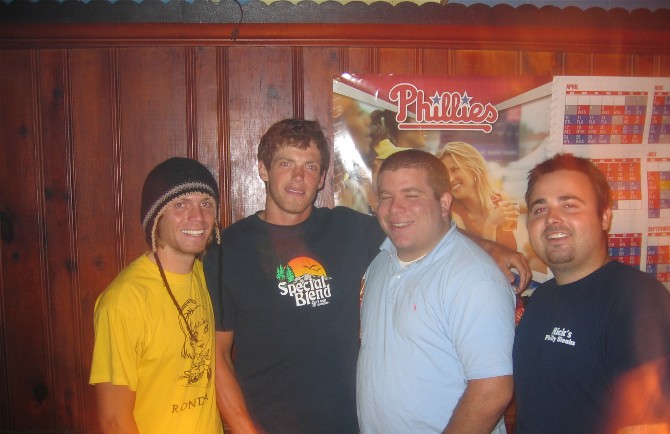 James, Grant, Lou, and Phil.


September 11, 2005 - Philadelphia again - We decided to hang out another day in Philadelphia and make a longer trek towards New York City tomorrow.

September 12, 2005 - Allentown, PA to Montclair, NJ -
We got a call from Matt, at Sigma Chi headquarters, who helped us to get in touch with Bill, who lives in Montclair. Special thanks to Bill for helping us plan our final day of riding and for being an incredible head chef. Also, Bill's home has probably got the coolest basement and most epic view of any house we've visited along the way Bill's the man.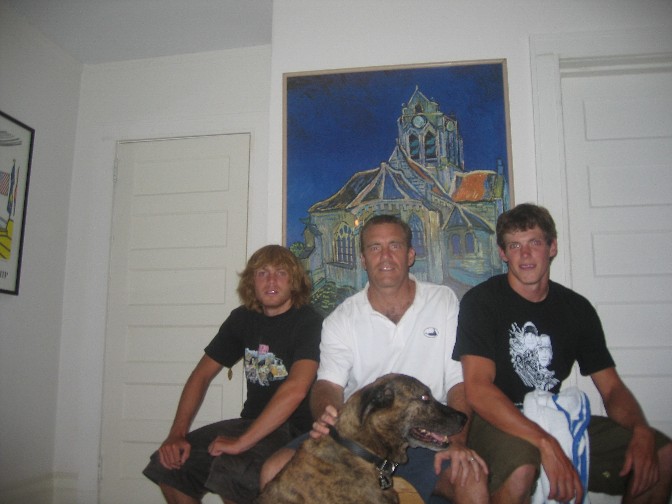 September 13, 2005 - Arrival in New York - We were full of excitement on this final day of bike travel. We only had about 17 miles to travel, but it took about 5 hours with the crazy traffic.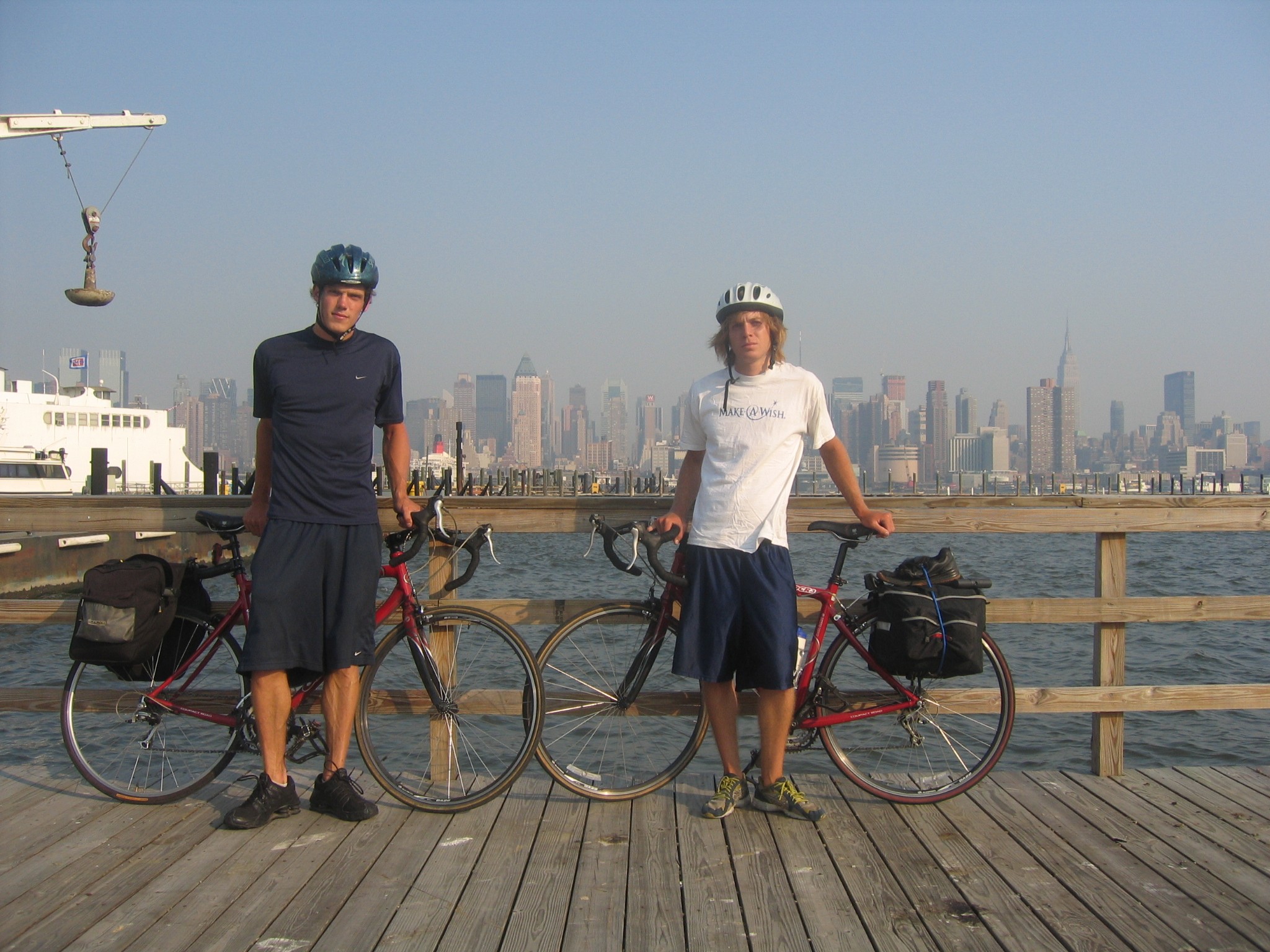 The 54 day adventure was a test of their self-resolve, character, and ability to navigate a road bicycle over 3,300 miles of American soil. The journey was long and hard, and although the trip had its fair share of criticism and doubt, the duo overcame countless hardships, falls, sunburns, and even a dog bite, completing their philanthropic trip from San Francisco to New York City on September 13. Throughout the trip donations were accepted and shirts were sold to raise money for the Make A Wish Foundation. The goal of the cycling adventure was to make the wish of Anessah, a three-year old girl with Rhabdomyosarcoma, to be realized with a trip to Disneyland. However, the ride finished bittersweet, on September 13, before make the final descent into New York City, the cyclists heard news that Anessah had passed away. Although filled with mixed emotions, the final day of riding became a celebration for Anessah's short life. The cyclists said the news about Anessah was very difficult to swallow, but she would have been happy to know that James and Grant finished strong and rode into New York with her on their minds and in their hearts.
Adversity was something that came with the territory. "We started to argue just for the sake of arguing I think, when you spend that much time on a bike and with another person it's inevitable...I think I won every one though" Carr said of the journey. This adventurous endeavor required mental toughness, physical strength, Lance legs, an excessively padded gluteus maximus, and iPod equipped with artists from Leonard Cohen to Run DMC. Knudson added "The iPods were nice, I didn't have to hear James win all the arguments". It was a fantastic experience for an even better cause.
Since the Make A Wish Foundation only deals with making wishes come true, the cycling pair are now fulfilling the wish of Trey Fullmer, a 3 year old boy diagnosed with Leukemia one year ago. Trey has a true passion for golfing. He has framed posters of Tiger Woods, his own clubs and is a pro at Playstation 2's Tiger Woods 2005. He knows all the pro golfers on TV, has a set of his own clubs, and is the proud owner of a swing that would make even Tiger himself jealous (although Trey does tend to look up during his back swing to make sure the gallery is paying attention). Trey was such a valued customer at the Outback mini-put golf course that he was awarded a lifetime pass by the staff solely based on his attendance, they had no idea of his illness. With all this in mind, it is very appropriate that his wish is to meet Tiger Woods.




James and Grant have currently raised $5,450.00 dollars for the wish of Trey to come true, but it is still not too late to contribute. For further contributions please contact Julie Thomas at Make A Wish, 208-238-9474. A special message from James and Grant "Thanks to Make A Wish, Rotary International, everyone who contributed and followed the blogs and to all the people that helped us along the way. We couldn't have done it without you.