We would first like to thank Ride On Bikes in Pocatello, ID for fitting us with all of our biking gear. We also feel it is necessary to recognize Brennan Construction for employing us for a short time before the trip, thus making all of this possible.

July 20, 2005 - We are both extremely excited about tomorrow's early morning departure. We'll try to keep everyone updated on our progress. We've already raised over $2,000 and we plan on raising a lot more. Let your friends know that we just placed an order for more black tshirts. Things are looking good and we appreciate everyone's support. hasta la victoria siempre.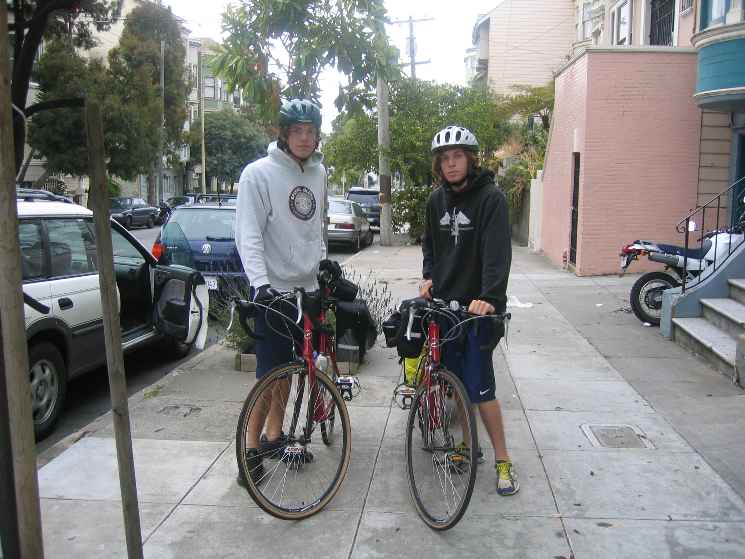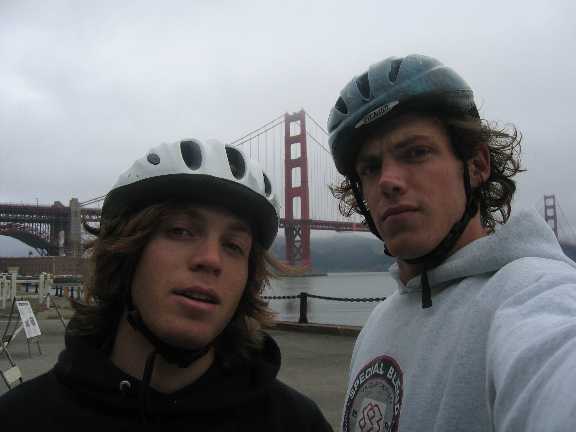 The Golden Gate Departure

July 21, 2005 - San Francisco, CA to Davis, CA - The first day went pretty much as expected...absolutely terrible. Whatever could go wrong went wrong. About 65 miles into the trip Grant was introduced to a small thorn bush which resulted in a total of 6 flat tires. The front tire, the back tire,
and the trailer tire were all severely punctured, but after a long tire-fixing party, and a little help from a French cycling enthusiast we were back on the road. Unfortunately, because Grant neglected to check his tires for any lingering thorns, he suffered yet another two flats. Now, because we had already exhausted our supply of spare tubes, he was forced to fill his tires with air every few miles and we continued to lose daylight. As a result, we missed a crucial cutoff and headed about 4 miles in the opposite direction before we realized we were riding in circles. We finally arrived in Davis around 10 PM with 90 miles logged onto the odometer. Cdog treated us to an evening of authentic Davis nightlife.

July 22, 2005 - Davis, CA to Placerville, CA - Got a late start and rode in the wrong direction for about 3 miles, all of which were uphill. Got to Placerville, CA just before dark. 80 miles logged on the odometer. The only highlight of the day was that we rode with our shirts off. We've got some pretty nice tans right now.

July 23, 2005 - Placerville, CA to South Lake Tahoe, CA - Woke up at 4:45 AM to get going to South Lake Tahoe. We took the 50 through the mountains despite posted warnings that read "no pedestrians or bicycles beyond this point." We didn't see any other bikers which leads us to believe that riding along the 50 is probably not highly encouraged. Due to a substantially large formation of rocks known as the Sierra Nevada's, we only averaged about 6 miles an hour (that's not very fast). There was a section of road in which we biked uphill for 40 straight miles. Because the trailer we have is over packed, we periodically give stuff away and drop luggage. South Lake is awesome. Special thanks to Caitlin for letting us crash at her place, and the Italian family for walking around in speedos.

The Hurley Sunburn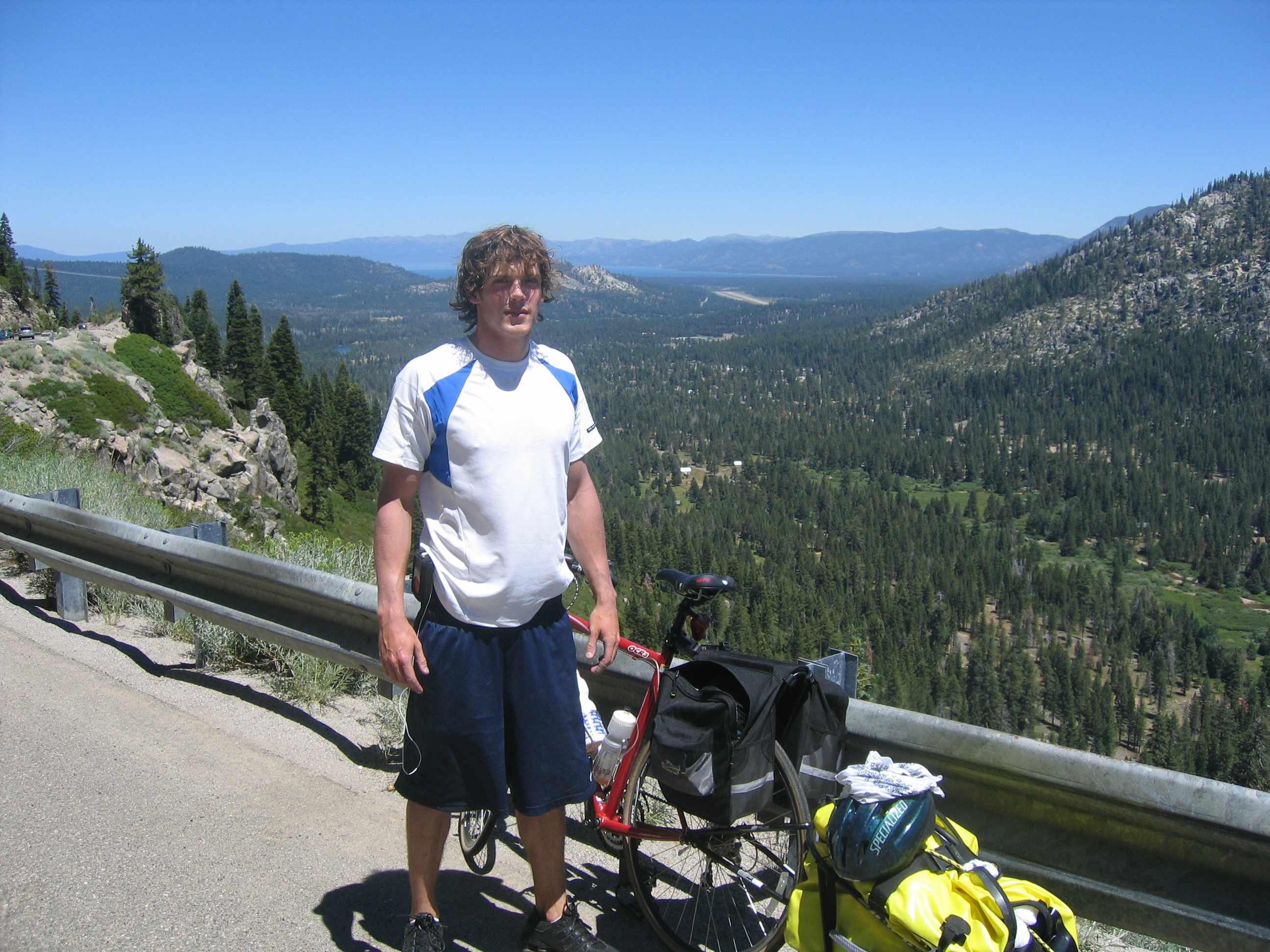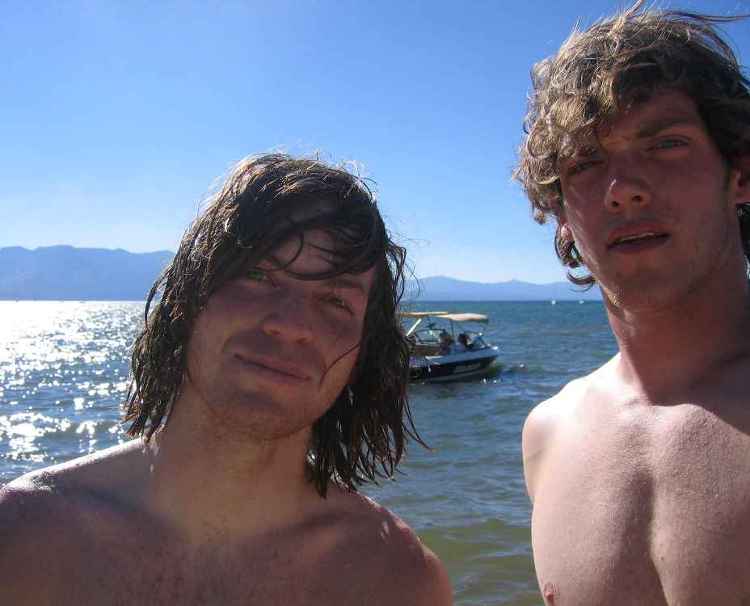 South Lake Tahoe

July 24, 2005 - South Lake Tahoe, CA to Reno, NV - A relatively easy day, the ride was predominantly downhill and flat. It was a nice ride other than James cutting into our good time by cutting into his leg (see image below). We stayed at the Atlantis in Reno, compliments of Sandra Owsley, and worked on our tans at the pool. We ate peanut butter and honey sandwiches for dinner.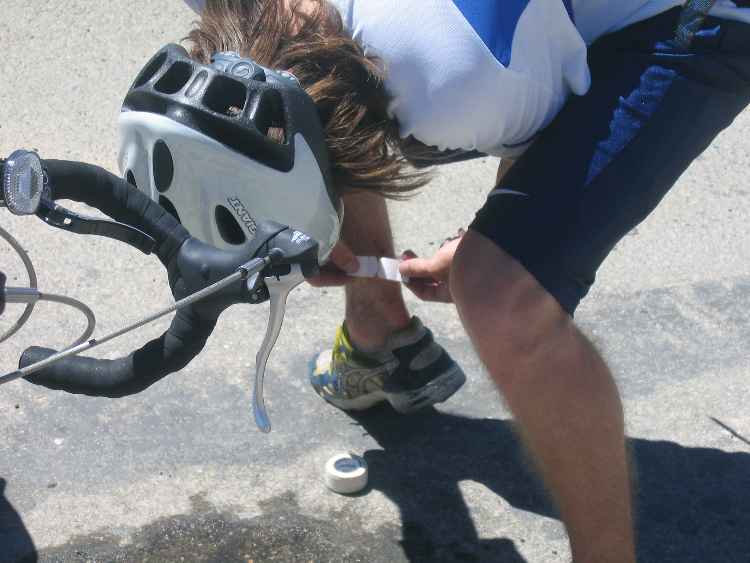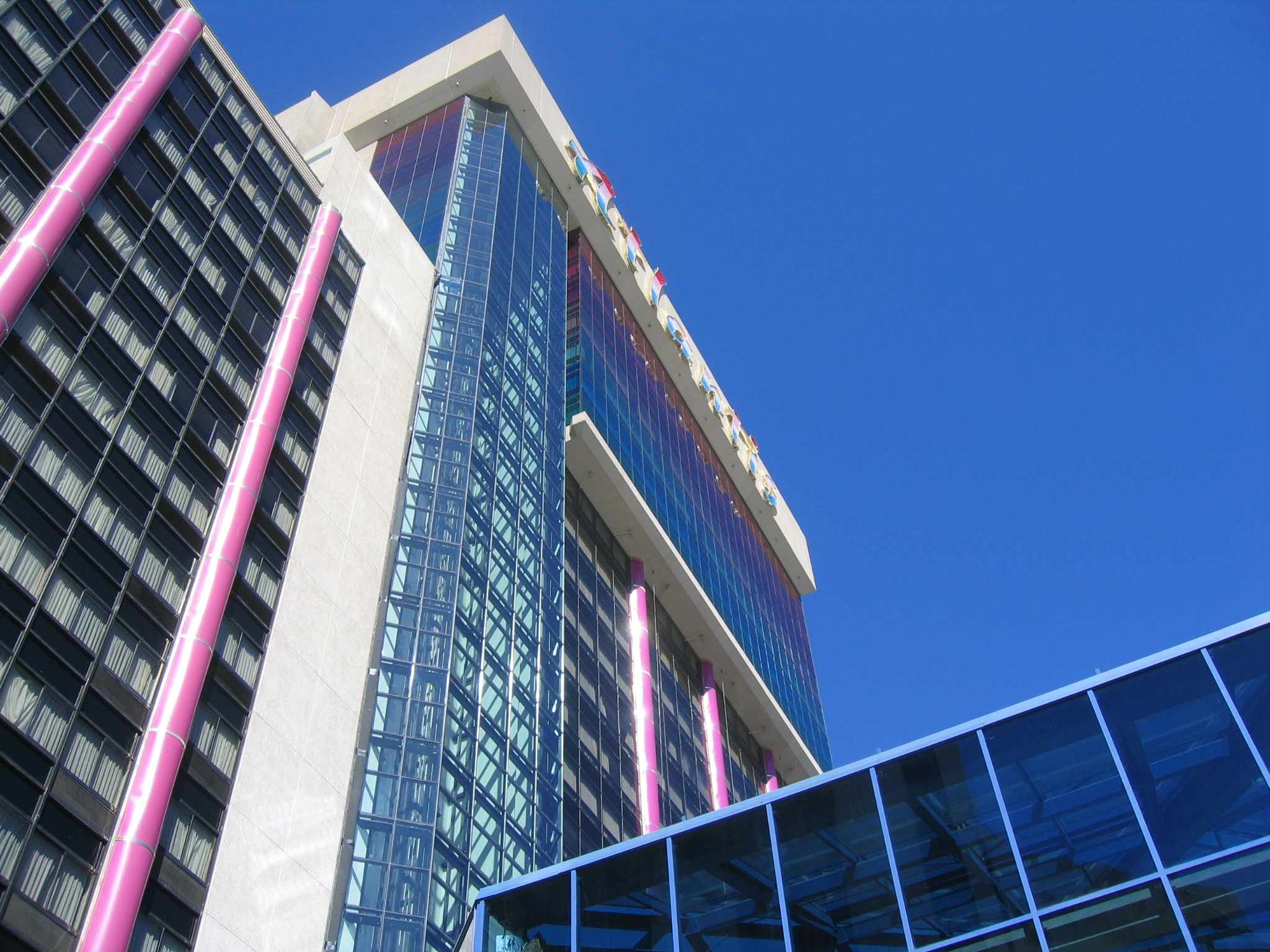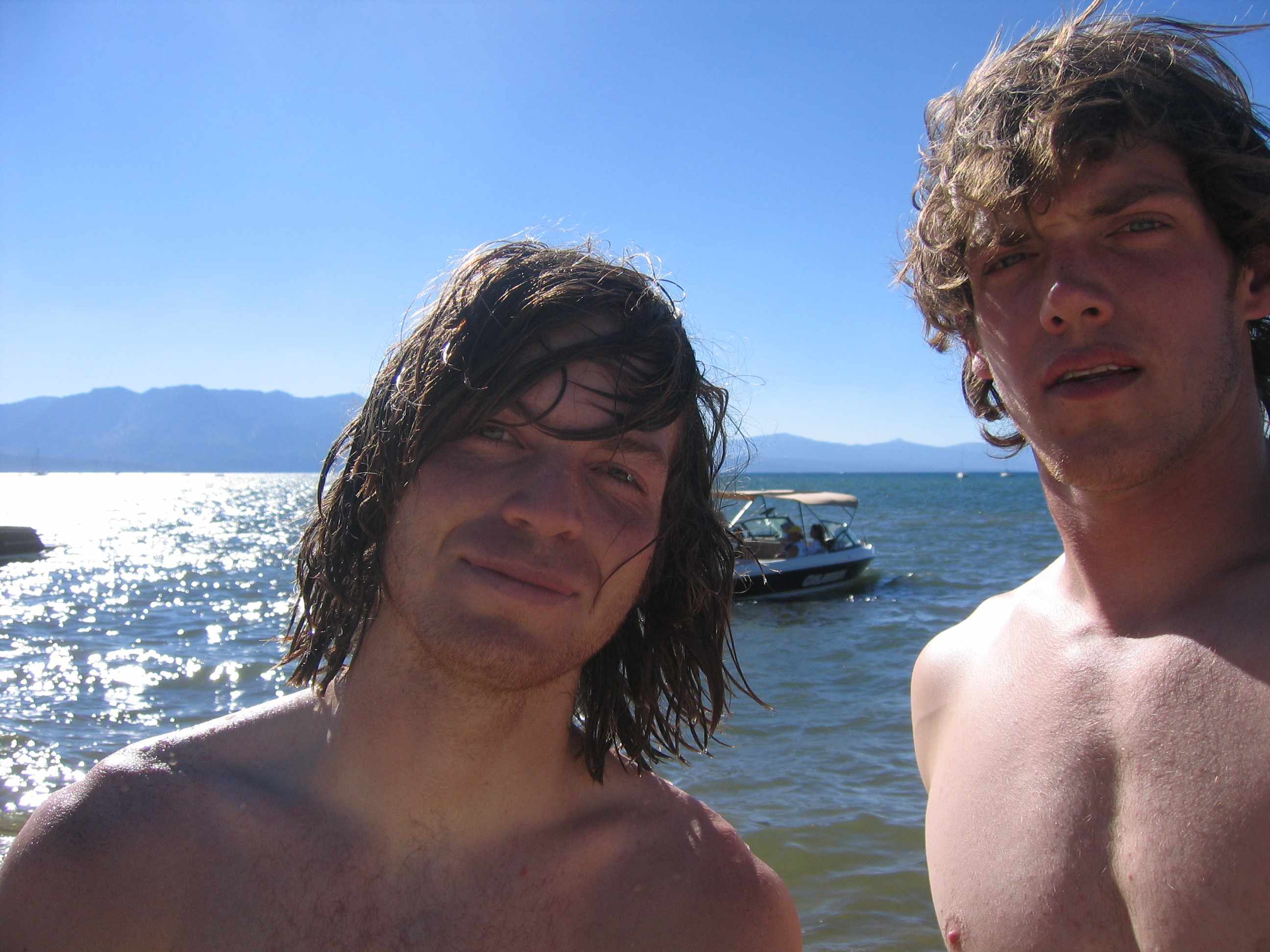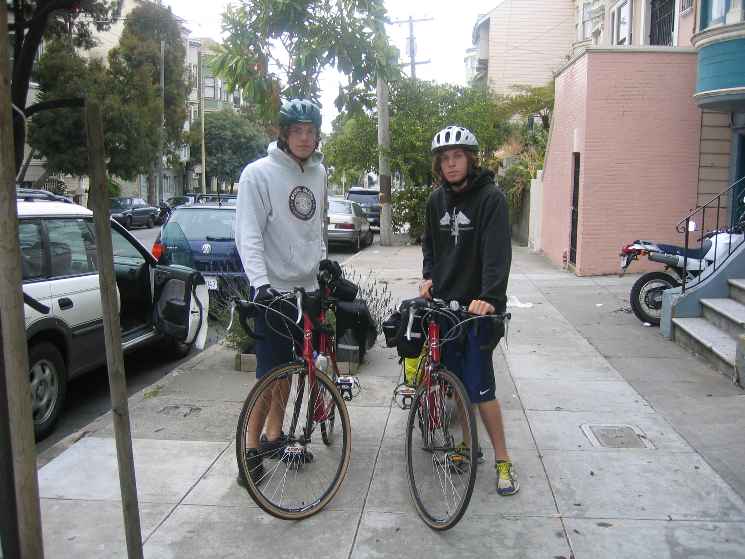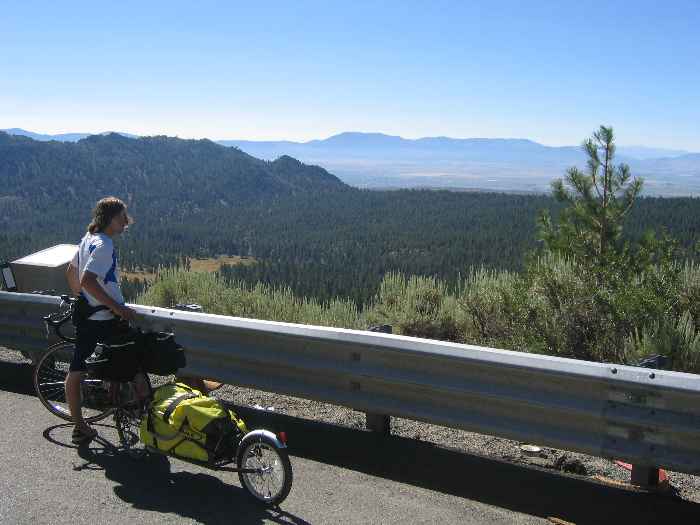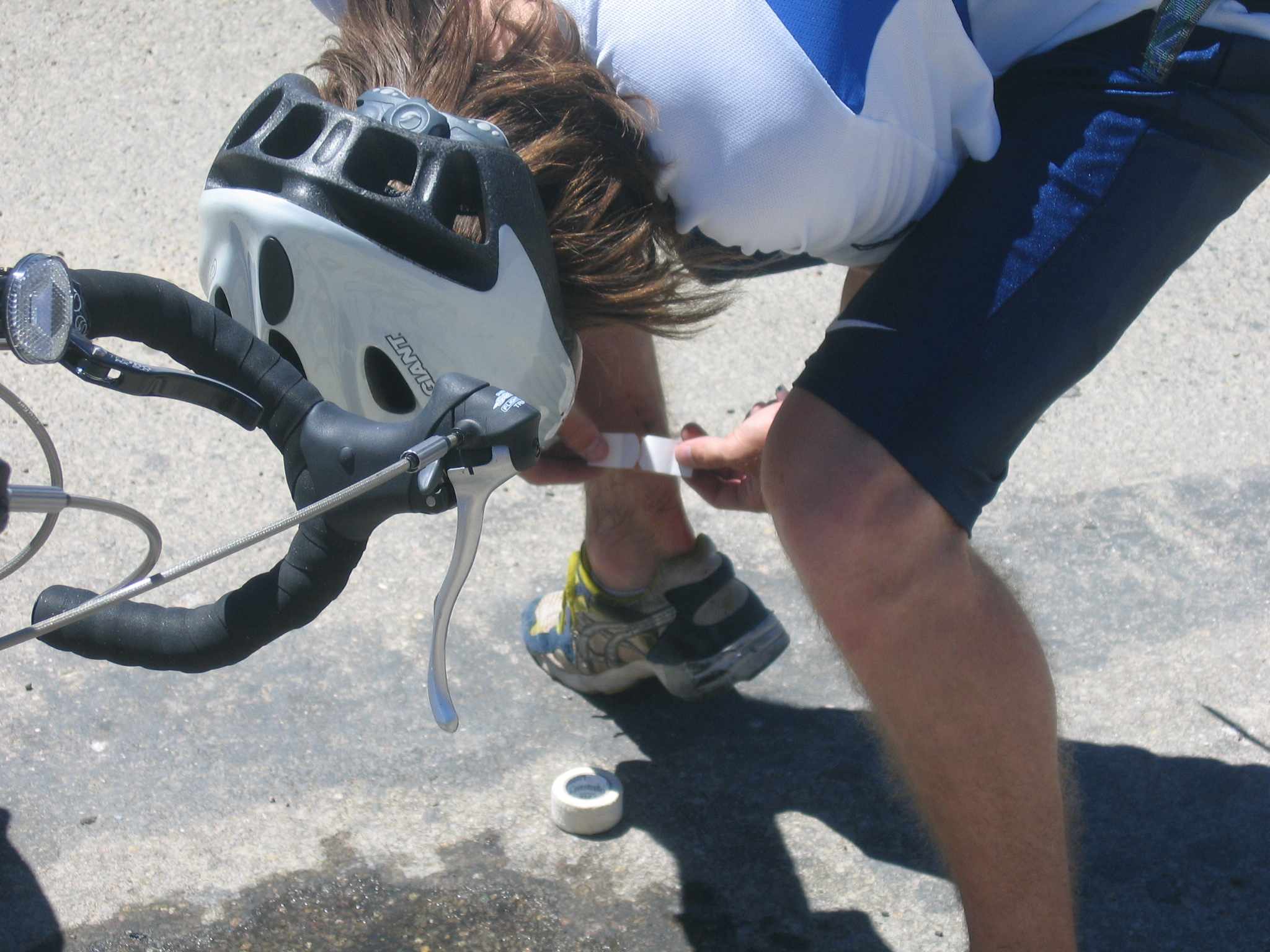 July 25, 2005 - Reno, NV to Lovelock, NV - Our first camping experience was nothing short of amazing. The Lazy K campground is a must on any travelers' list of "things to do". Denise, the manager, treated us as if we were her own children, generously hooking us up with this tent villa and free soda refills.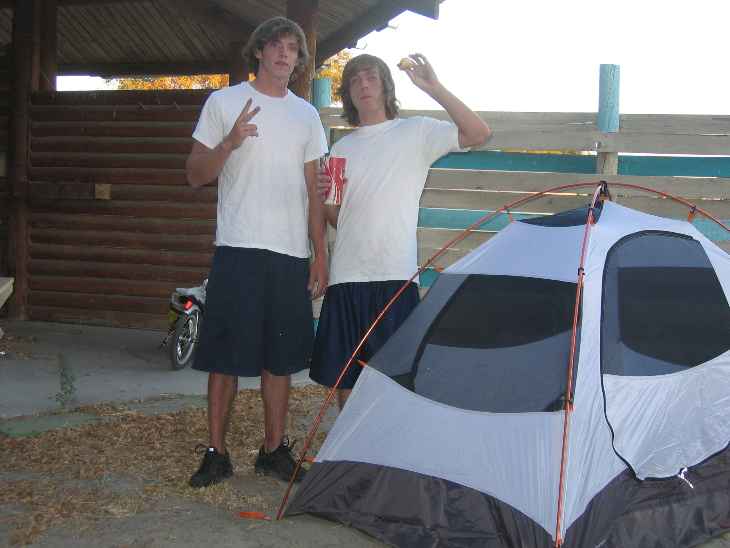 July 26, 2005 - Lovelock, NV to Winnemucca, NV - We made it to Winnemucca and stayed at the Owsley Hotel. It is a pretty sweet place to stay because it's actually Grant's aunt and uncle's house and they have a gigantic hot tub. We are taking a rest day in Winnemucca instead of Reno because of monetary advantages. Since we are both recent grads of Willamette University and also Sigma Chi Alumni, the Sigma Chi Fraternity has graciously helped publicize our trip. The Sigma Chi PR department has set us up with some interviews along the way and has also posted a story on the official website (www.sigmachi.org).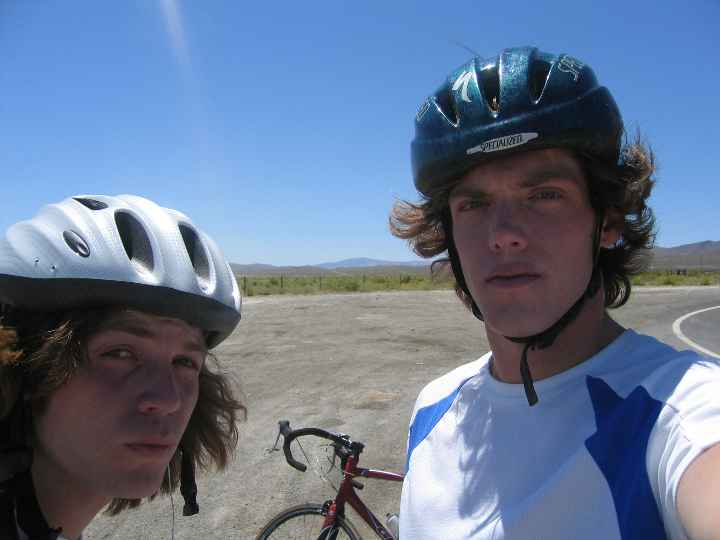 This is what Nevada looks like

We would like to give some major props to Lisa at the CGI Group. She definitely gets the MVP for helping us get the word out. She is at the top of her game and CGI is lucky to have such an ambitious and dedicated employee.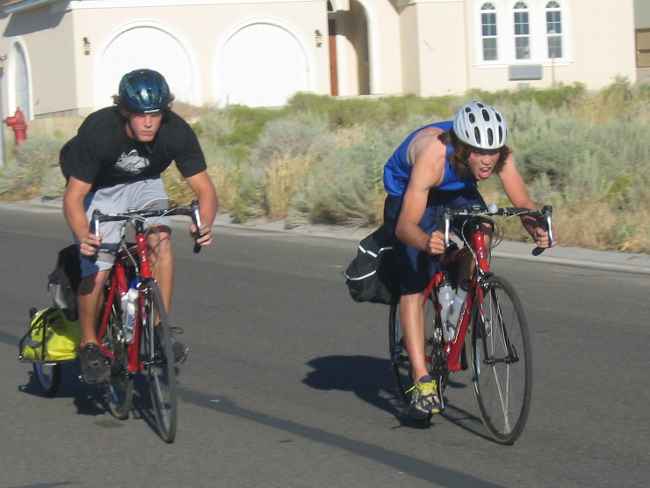 Even on our day off we hop on the bikes to stay fit

July 27, 2005 - Winnemucca Rest Day -We took our bikes in for a tune-up at Bikes and More in Winnemucca. They were booked until next week but somehow managed to fit us into their busy schedule. Our bikes are working flawlessly, so stop into Bikes and More if you are ever in Winnemucca.


July 28, 2005 - Winnemucca, NV to Battle Mountain, NV - Whatever people say about Battle Mountain being the "Armpit of America" may or may not be true. One thing we know for certain is that the people of Battle Mountain are among some of the nicest and most generous that we've had the honor of encountering along the trip. Our latest local acquaintances Diane, Debbie, and Shari all bought us drinks and pizza at Landers Station, while Laura managed to comp us a hotel room at the nearby Battle Mountain Inn, where they gave us a free rolls of nickels to try our luck. Later that night, James used that same free $2 in nickels and won $17 dollars on a slot machine and later treated Grant to a delicious 4 course meal at the Colt Cafe. All in all, we were pretty happy about our stay in Battle Mountain and encourage all travelers to check out the "Armpit of America" for themselves. Total distance 56.3 miles. Total time 3 hr 7 minutes.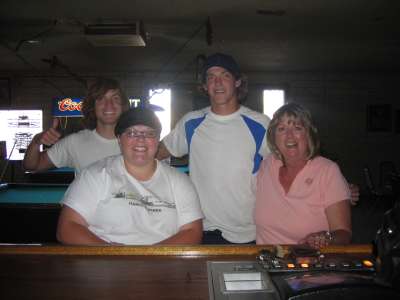 Laura and Debbie helped to keep us hydrated and sheltered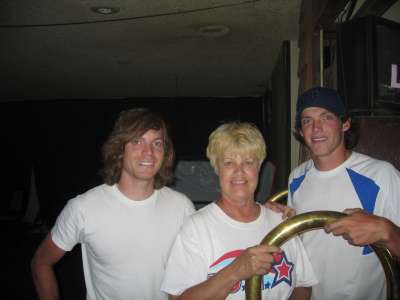 Shari keeps it real at Landers Station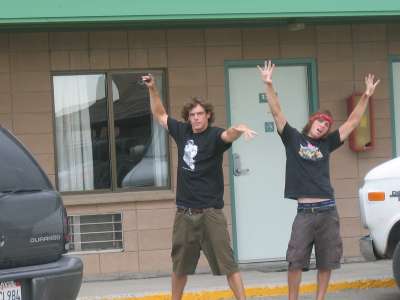 July 29, 2005 - Battle Mountain, NV to Elko, NV - We were a little surprised at the difficulty involved in climbing over Emigrant Pass but resolved to complete the trip in a little under 5 hours. Once in Elko, we met up with Bernie, a fellow Make A Wish volunteer, who has graciously allowed us to stay in his home. James is lodging in the Horse room because he's a cowboy while Grant will be sleeping in the flower room, hmmmmm. We would like to extend a very special thanks to Bernie for his hospitality and to John Turkenburg for contacting Bernie and several other hosts that we look forward to meeting along the way.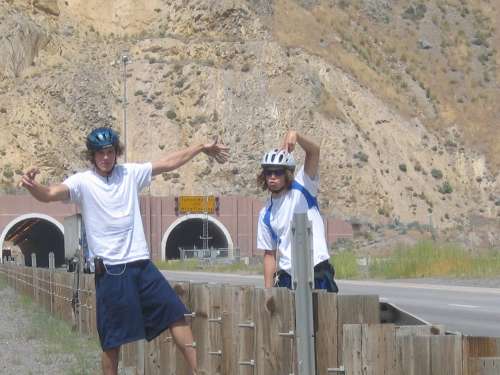 This is a picture of us celebrating the successful completion of a narrow and sketchy tunnel. We look pretty happy don't we?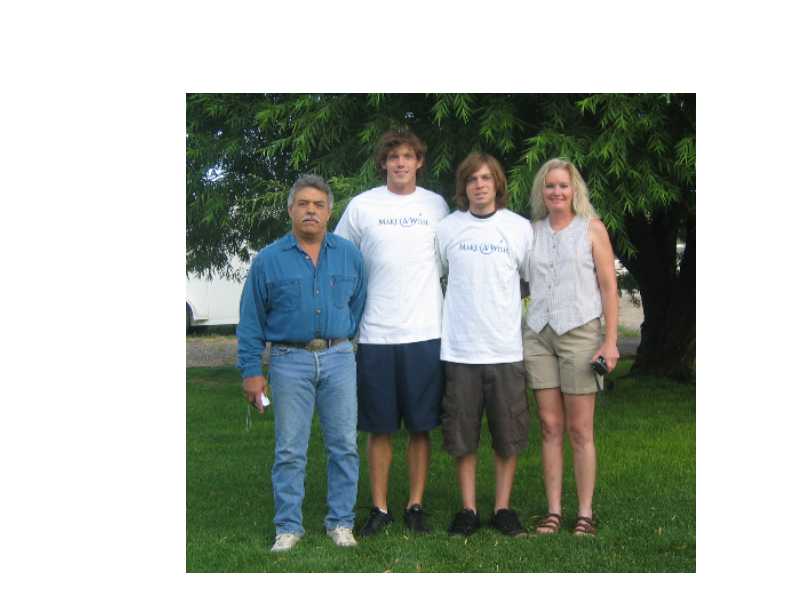 Bernie and Deea - The Make A Wish volunteers in Elko

July 30, 2005 - Elko, NV to Wells, NV -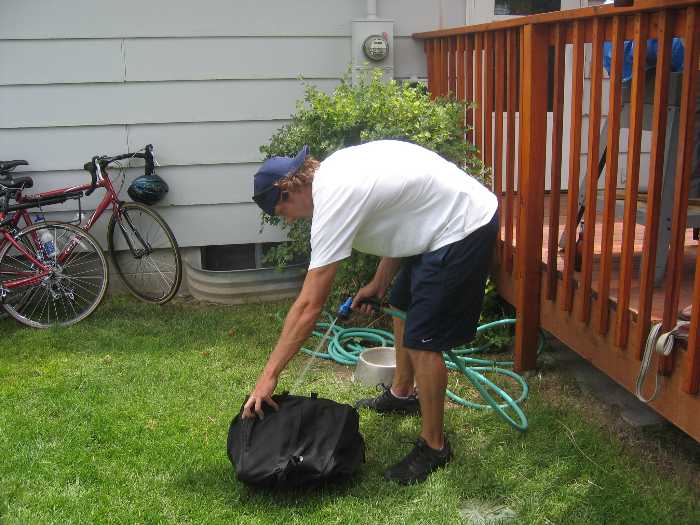 We immediately knew Wells would be a great place when a dog marked its territory by piddling all over Grant's bike bag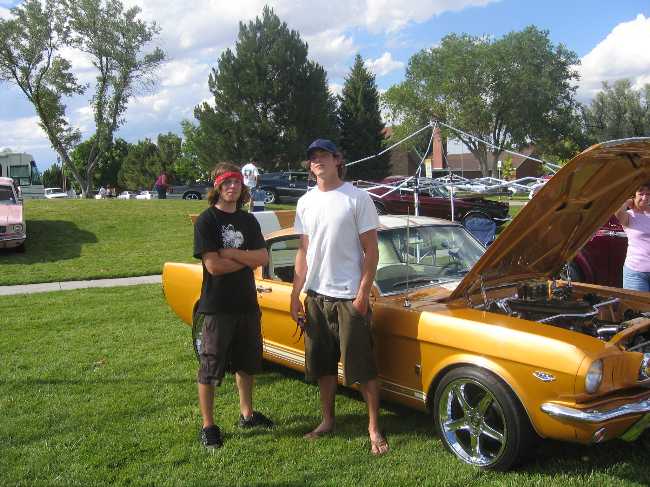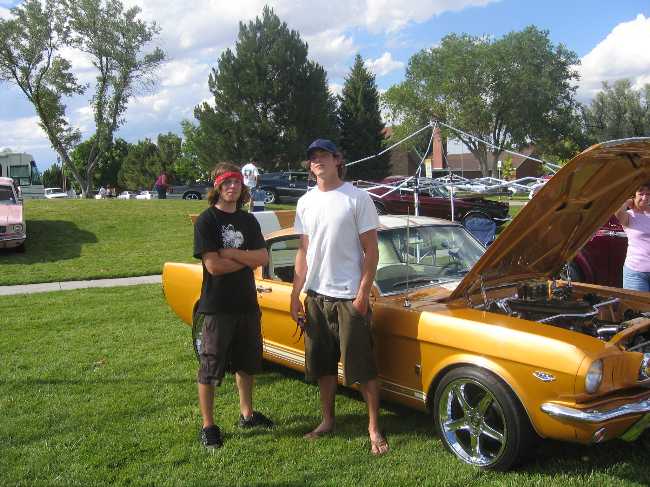 They tried to give us this Mustang but we already had our bikes.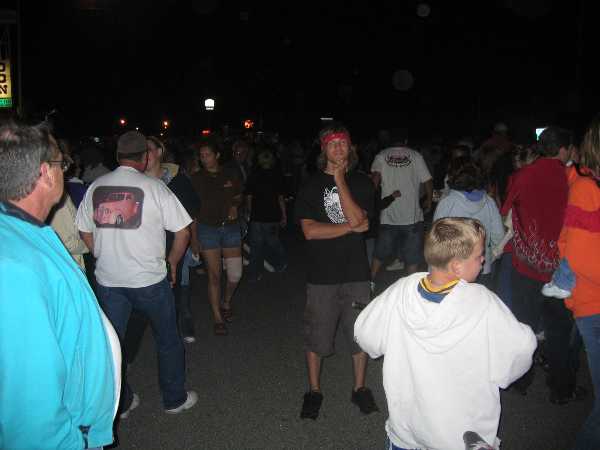 The Wells Street Dance was nothing short of amazing. James is pictured here pondering his next dance move.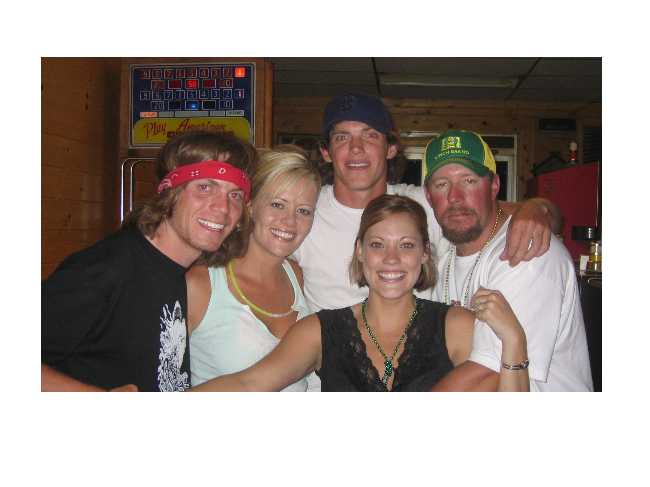 Steffani, Brigit, and Matt - Wow, what a radical time. Steffani really knows how to make some fantastic pasta, while Brigit came through with a delicious bread recipe. These gals treated us to a totally tubular evening in their original hometown of Wells. Matt turned out to be the "brains" of the group and provided us with hilarious jokes and has a great hamburger recipe of his own.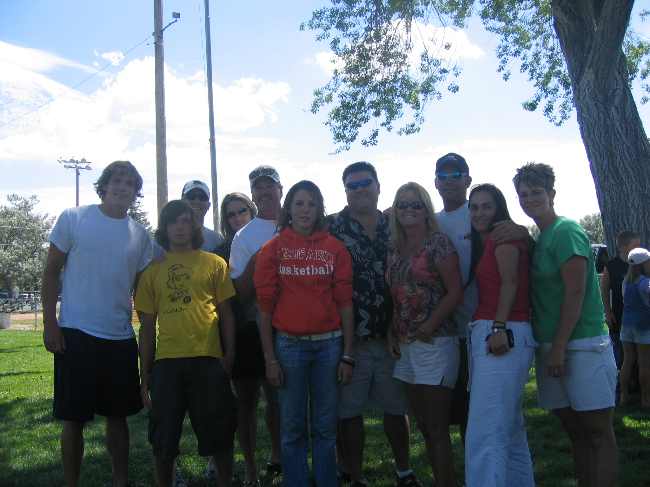 Mike and Rachael Cromie, Family, and Friends showed us a fantastic time in Wells during the highly anticipated annual Fun Run.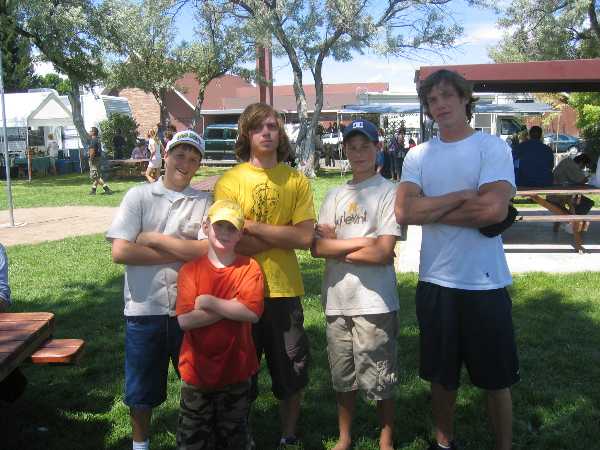 James Cromie and his posse looking tough for the camera


July 31, 2005 - Wells, NV to Wendover, NV -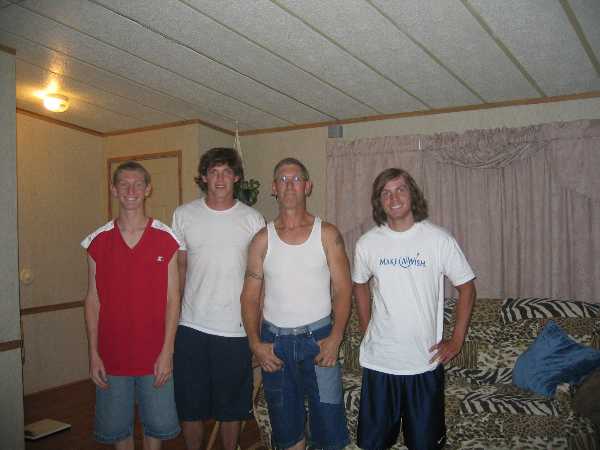 Tom and Colby Bostock helped us out with a great place to stay, treated us to a much needed meal at McDonalds, and also made a fantastic addition to their closet with the purchase of two radical t-shirts.
August 1, 2005 - Wendover, NV to Salt Lake City, UT -

Longest bike ride of the trip. 130 miles with some head wind. But we made it and are having a sweet rest day. The Best Western even hooked us up with a suite on the 13th floor. More pictures coming soon!!!!

August 2, 2005 - Rest day in Salt Lake. It was nice to have a day off after that 130 mile ride. The Best Western hooked us up with a free breakfast and were generous during our stay. Diane and Roger fully supported our cause more than we ever could have imagined. Family and Friends met up with us in Salt Lake which made for a super time.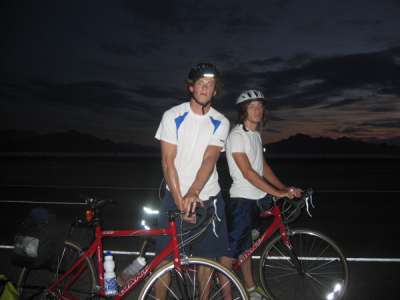 4:45 AM adventure across the Salt Flats


The Family and friends came to encourage us in Salt Lake City but they probably just wanted the the employee discount at Market Street Grill, courtesy of Cal. Grandpa and Chrissy sure do look stellar in those shirts, if I were you I would click on that button over to the left and buy one. Sonya, Louie, Brynn and Paige have been absolutely amazing during our trip and have provided a grundle of encouragement. We couldn't have done it without them.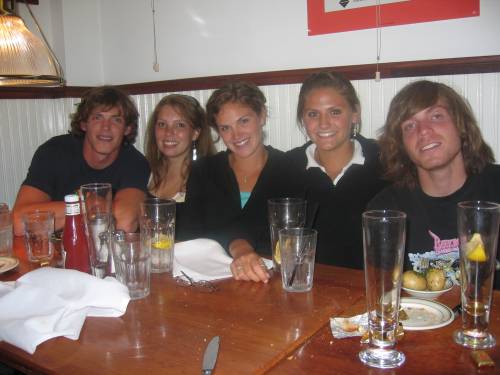 We ran into some pretty hot chics at the Grill, unfortunately they all have boyfriends. And thanks to Cheline's superior travel and fashion skills she was able to make the trek to Salt Lake City for a great weekend as well as provide Brynn and Paige with some sweet earrings straight from Indonesia.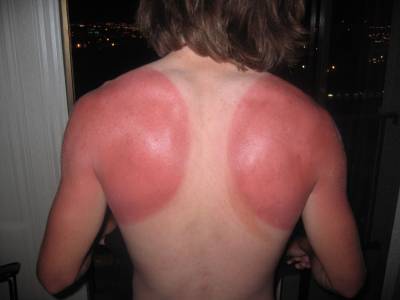 From Wendover to Salt Lake James decided to work on his tan, but his pale white skin may not be capable of that sort of thing. Owwww.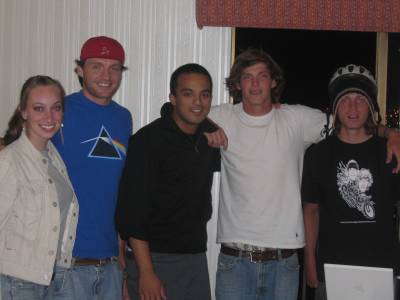 Some groupies were waiting for us up in our suite. It sure does feel good to have groupies.
(Thanks Leslie, Steve, Cal)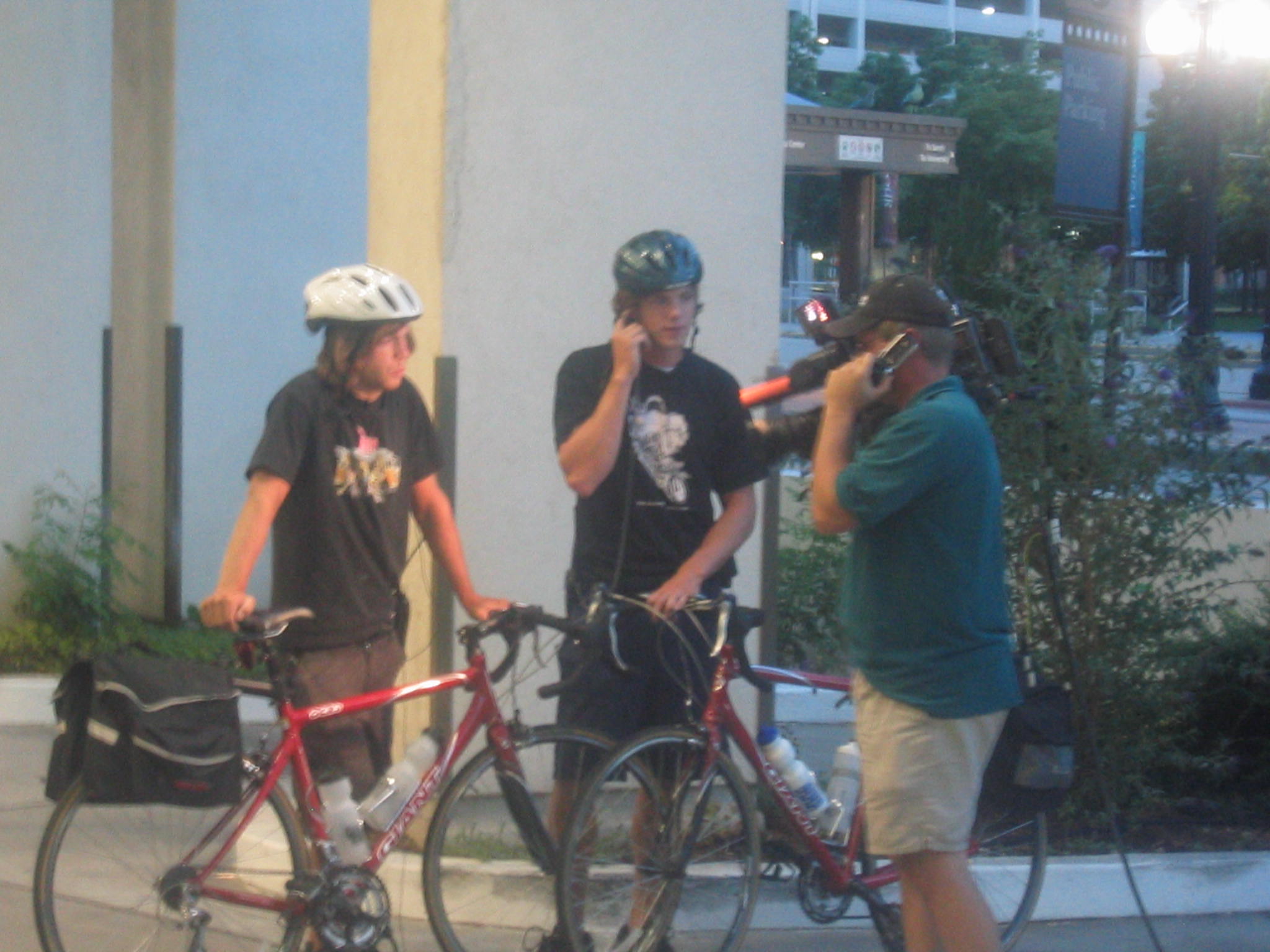 Our first inverview with KSL in Salt Lake City, the NBC affiliate - looks like we beat Ryan David to the TV spotlight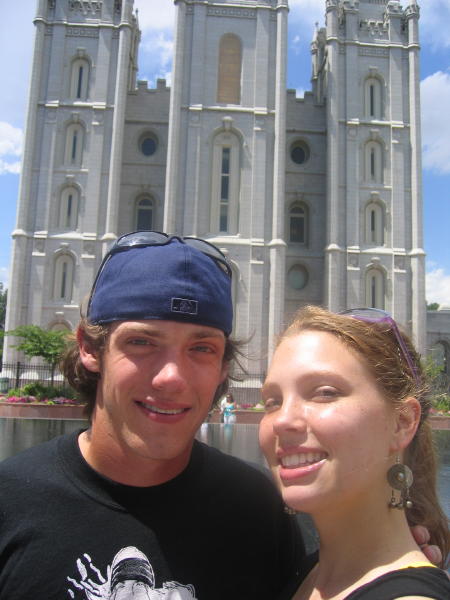 While James got in some of his much needed beauty rest, Cheline and I enjoyed some SLC attractions close to the hotel.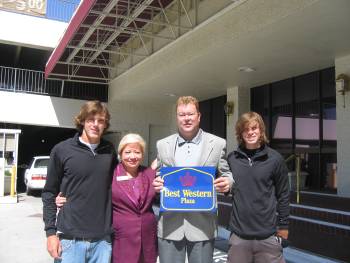 Roger and Diane came through with some Best Western hospitality and we even received free gift baskets with lots of good candy. Our matching black tops have received many compliments and are courtesy of Brad Thompson, General Manager of Built On Athletics (BOA)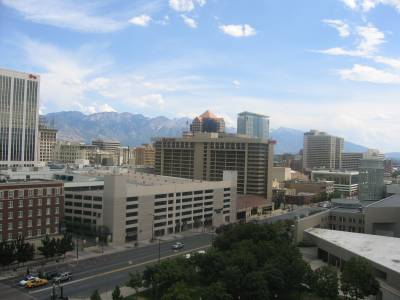 What a suite view from the 13th floor of the Best Western Plaza Hotel.


August 3, 2005 - Salt Lake City, UT to Lehi, UT - We decided to stay in Lehi rather than Provo because Roger worked his magic with the Best Western there and we got a free room. James was already sunburned and then while we were cruising down a hill he ended up in some gravel and was introduced to road rash. Lehi ended up being a great little town and Flirts was the place to be on a Wednesday night.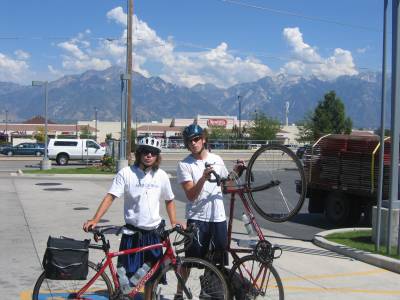 Look at that cool white truck.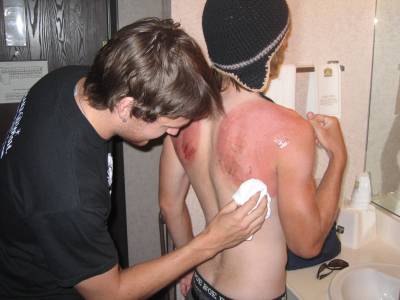 Nurse Smith takes care of James' battle wounds from his nasty fall in Utah* earlier in the day *He usually has one per state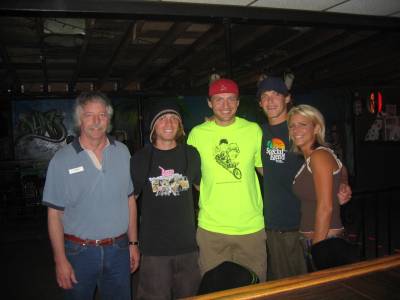 The Flirts crew was amazing - they really know how to treat highly skilled cyclists - they were even nice to Steve too! Stacie even got a shirt! And no, Stacie is not the dude in blue, that's another Steve.
August 4, 2005 - Lehi, UT to Price, UT - We got a late start but hit up McDonald's for some great energy food before we left Lehi. It proved to be a very long day and we arrived just before dark and found out that Price was absolutely packed and NO hotels were available. We decided to discuss the situation over dinner at the Log Palace and Grant ended up making a call to the police. Surprisingly, the police are actually quite alright with letting you do something illegal if you ask them about it first. They let us camp in a park in the middle of town and we slept comfortably until about 1:00 AM. This is when we figured out how to be more efficient with our time by simultaneously showering under the sprinklers.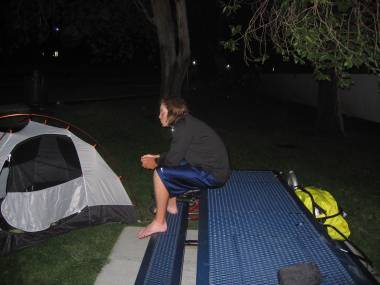 James changed into shorts that matched the picnic table while we waited for the sprinklers to turn off.

August 5, 2005 - Price, UT to Green River, UT - A shorter day and nothing special happened. We will let you know more when we have time.
August 6, 2005 - Green River, UT to Grand Junction, CO - We finally made it to Colorado and had a great tailwind most of the trip. We are staying in a sketchy hotel where we managed to get a room with two beds for the price of one by bargaining with the Polish woman at the counter.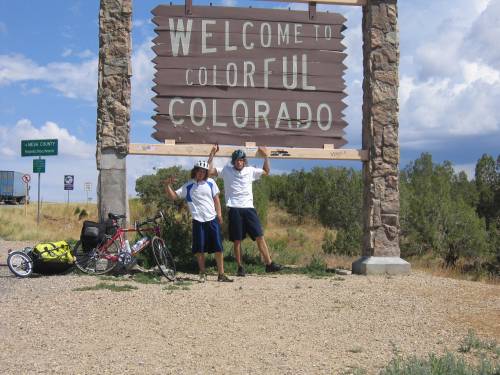 Colorado is rad

August 7, 2005 - Grand Junction, CO to Glenwood Springs, CO - This ride was absolutely beautiful. We made it 90 miles to Glenwood springs at about 3:39 PM and hung out at the mall for a while before we were greeted by Don, Sue, Brigitt, and Anna, who showed us a fabulous time. We checked out the world famous Glenwood Springs Hot Pools and soaked our legs. This was definitely our best night of sleep for the trip - just look below and you will know why.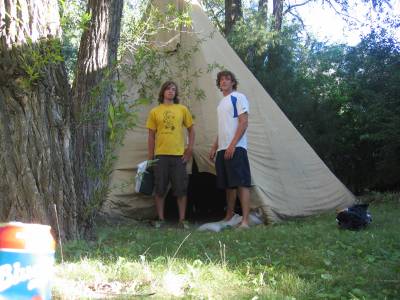 See! We slept in a tipi! And this is an update on James' back problem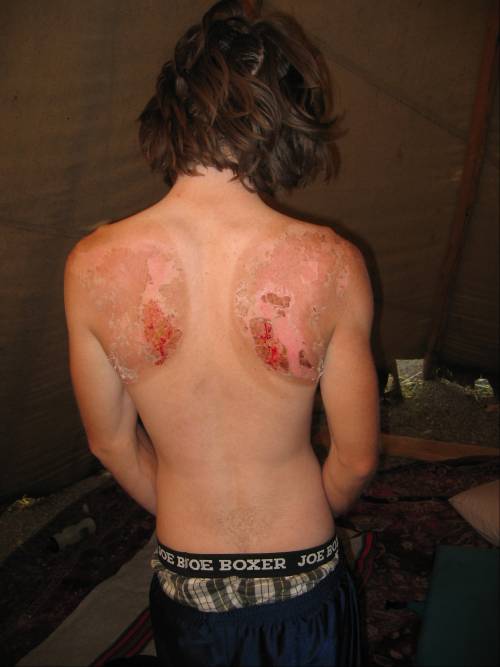 August 8, 2005 - Glenwood Springs, Co to Edwards, CO -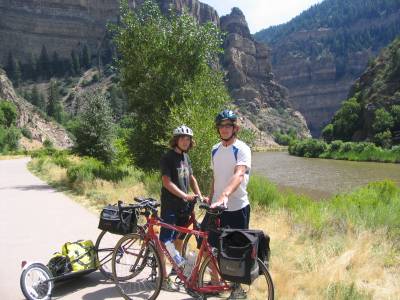 The Bike Path along I-70 is absolutely beautiful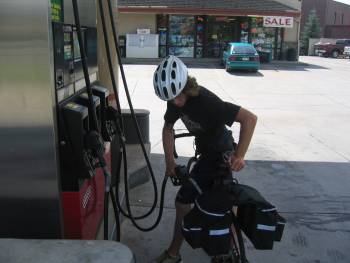 James barely made it to the gas station in time, his gas light had turned on about 26 miles back


Parker and Prentice introduced us to bunny ears as well as the pond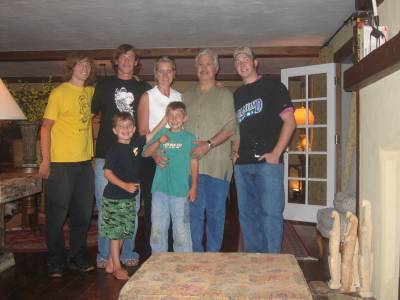 Jerry and Julie Jones and Family provided us with a wonderful place to stay, a fantastic meal (Julie cooked a fabulous steak and an equally stunning berry dessert), and some creative dancing from the boys. Jerry also took us for a great cheese and wine tasting expedition at the Arrowhead Village. And a special thanks to Hunter for treating us to some late night Wendy's.

August 10, 2005 - Edwads, CO to Denver, CO - Without a doubt the most difficult ride of the trip since South Lake Tahoe. The first hundred or so miles through Colorado were much easier than either of us had originally anticipated. Climbing over Vail Pass and Loveland Pass on the same day, however, were a bit more miserable than was previously envisioned. Grant, in a heroic display of courage and personal fortitude, won the MVP for the day by carrying the trailer over both passes. James would have done it himself had he not been reeling both mentally and physically from a long night of wrestling and dancing with the Jones' family youth. We like to think that our arrival in Denver is a personal testament to our dedication to finishing this ride across the country. A special thanks to Morgan for setting us up with Allison, who went out of her way to guide us into the inner Denver city limits and with whom we are currently rockin n' rollin. Because we arrived in Denver a day early, we will be taking not one, but two rest days. If anyone wants a John Elway jersey let James know.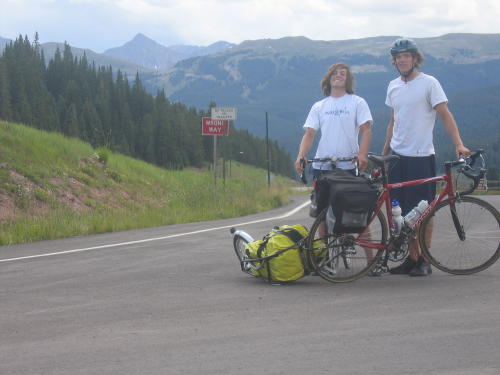 Vail Pass (Elevation 10580') was a great warmup to the larger pass we had coming up later in the day. Unfortunately there was no cool sign to pose by, but trust us, this is Vail Pass.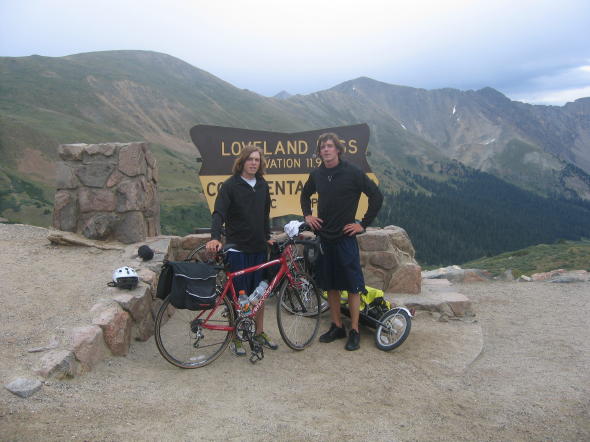 We had heard some bad rumors about how difficult the climb over Loveland Pass would be, and with an elevation of 11990 feet, every single one of them proved to be true. But at the end of the day we felt as if we owned the Rockies.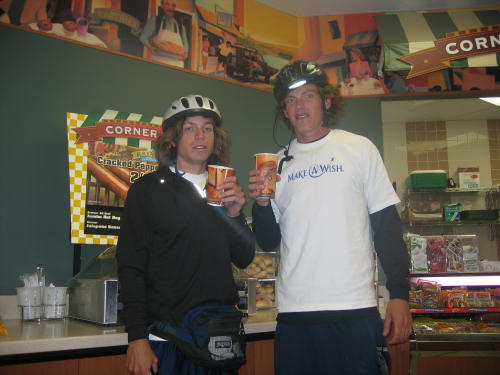 Then the rain came. We were not prepared for that cool Rocky Mountain air and could not feel our hands or feet after 12 miles of steep downhill. We stopped at the first gas station we could find and enjoyed 7 cups of hot chocolate.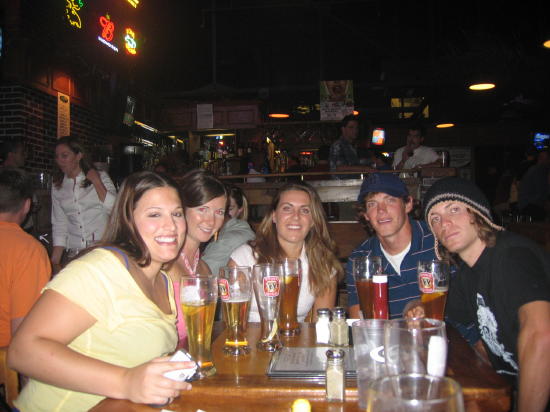 Thanks to the kindness of Allison, Erica, and Pam we had a great stay in Denver. On our first rest day we grabbed some dinner at Governor's Park for trivia night. Which came first? The building of the Great Wall of China or the Birth of Christ? (Look below the next picture for answers) Also, who holds the Major League Baseball career record for both most stolen bases and walks?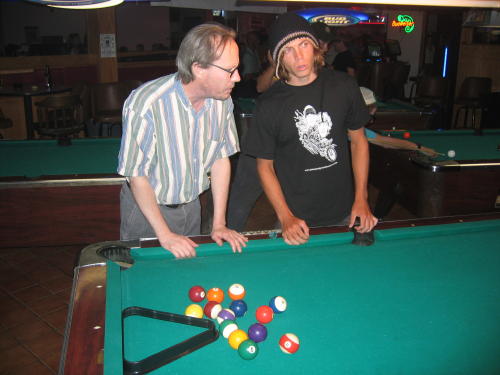 James discussing the rules of the game with a local pool shark.
TRIVIA ANSWERS: Well actually the Great Wall of China camefirst and Rickey Henderson is holding down that sweet baseball record.
August 12, 2005 - Denver, CO to Limon, CO - Eastern Colorado is really flat. Stopped at a bike store on the way out of town to pick up some spare tire tubes because of our remarkable ability to ride over objects that tend to deflate our tires. In Limon we checked out our first KOA campground and ordered a pizza that was delivered directly to our campsite. So we are not sure if you call that camping or not.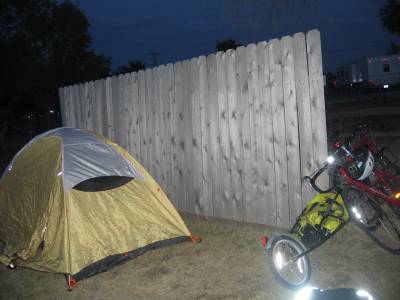 August 13, 2005 - Limon, CO to Burlington, CO - More flat land and a nasty headwind. We realized that we are way ahead of schedule since we took a different route than originally planned through Colorado. So we are going to take 4 rest days in Burlington...sike! We will let you know our new itinerary as soon as we figure it out.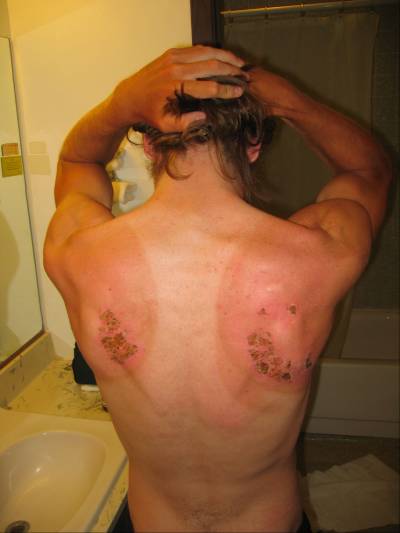 James' back update is shown here due to popular demand

August 14, 2005 - Burlington, CO to Colby, KS - We were planning on heading to Hays and then Salina, but a State Trooper kindly let us know that the laws are different in Kansas and we were forced to take Highway 24, which ended up being a better route anyway.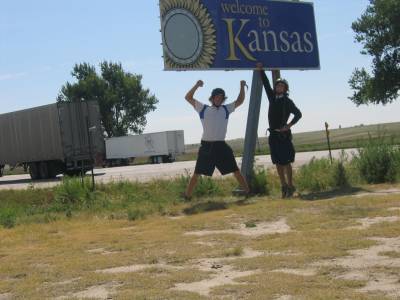 We aren't in Colorado anymore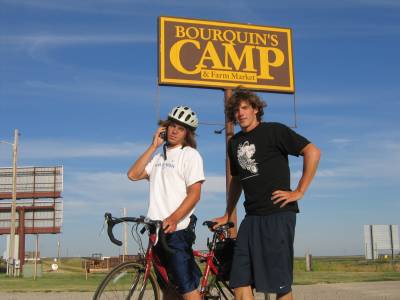 Mr. Bourquin hooked us up with a free campsite and we got to mingle with all the travelers with huge RVs - if you ever find yourself in Colby, KS, this fabulous establishment is a must.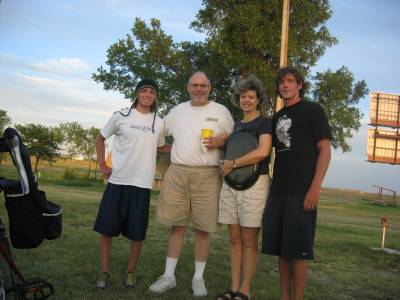 We shared some great travel stories with some fellow campers, Gerry and Jamie, who also prepared us gourmet pizza, kept us hydrated with bottled water, and made a generous donation to help our cause.

August 15, 2005 - Colby, KS to Osborne, KS - We broke our old record for longest day and made the 134 mile journey from Colby to Osborne in about 10 hours. Yes, our butts hurt and we really don't want to talk about it. Contrary to popular belief, Kansas is really not that flat, it should now be categorized as a state that has rolling hill after rolling hill.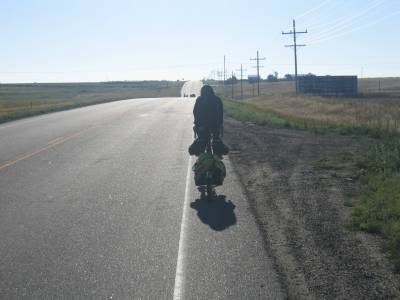 James begins the day with the trailer on our longest ride of the trip through Kansas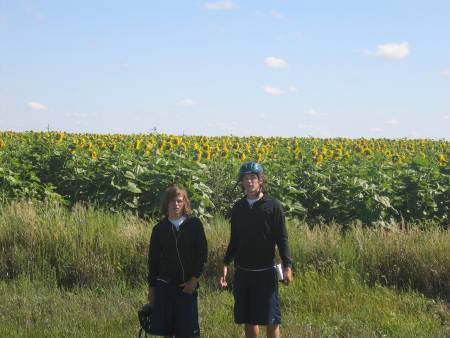 Here's a fun fact: Kansas is the Sunflower State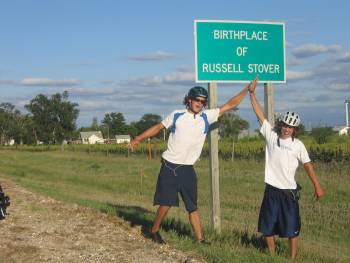 Grant runs to get in the picture to celebrate the birthplace of Russell Stover with a much deserved high five in Alton, KS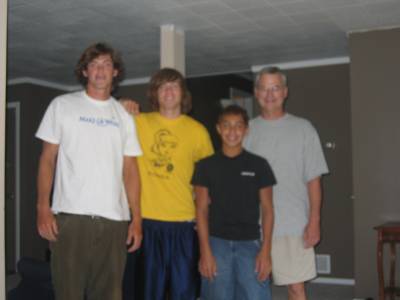 Through Rotary, we were able to get in contact with Jim, Kylie(not pictured) and Dan Floyd, who treated us with some amazing Kansas hospitality. We were greeted with fantastic hamburgers for dinner and an equally tasty breakfast of bacon and eggs. Since both Jim and Dan are avid Scouts, we also got to sleep on some top quality cots, which beat the heck out the ground we had been experiencing the last few days.
August 16, 2005 - Osborne, KS to Glasco, KS -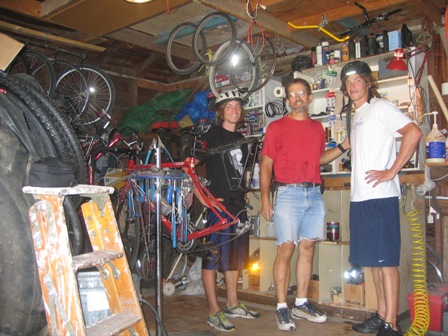 John McClure aka The Bike Wizard hooked us up with an extremely thorough bike tune up before we took off from Osborne. It turned out to be a much needed tune up since Grant had a broken spoke and James was in need of a new derailer hanger. Our bikes are rolling much better now and we couldn't be more thankful for John's superb bike repair skills.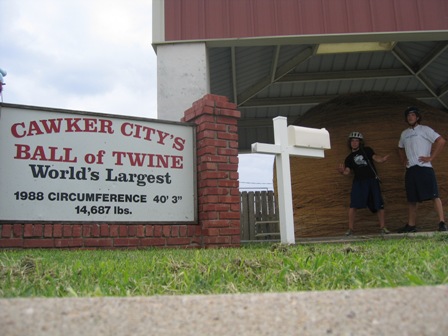 Well the sign pretty much explains it all

Lauren and Jean Schmidt had a splendid white farm house where we were able to stay in Glasco. Jean sure does make a fantastic peach pie and a wicked early morning breakfast.

August 17, 2005 - Glasco, KS to Manhattan, KS -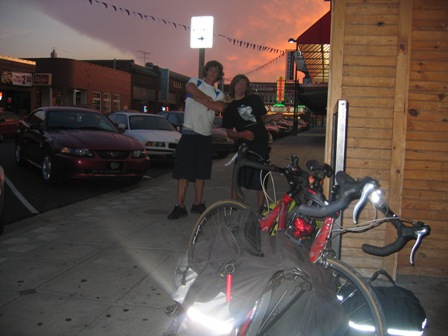 Aggieville near Kansas State University


August 18, 2005 - Manhattan, KS to Lawrence, KS - Made it to Lawrence today and the KU Sigma Chis are letting us crash at their house. We will have more details and pictures soon.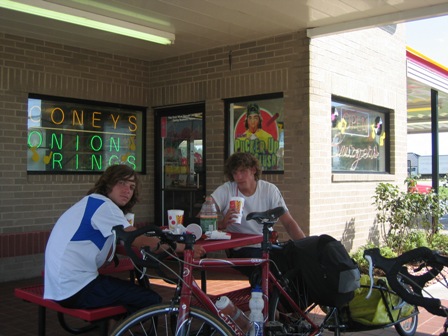 We had to take a break at Sonic in Topeka to get a rest from the heat and humidity. We hear it was 116 degrees with the heat index.
August 19, 2005 - Lawrence, KS Rest Day - We decided to take a rest day in Lawrence since we had free lodging and free candy. We were pretty exhausted from the journey through western Kansas which turned out to be a windy adventure where we averaged about 12 miles/hour.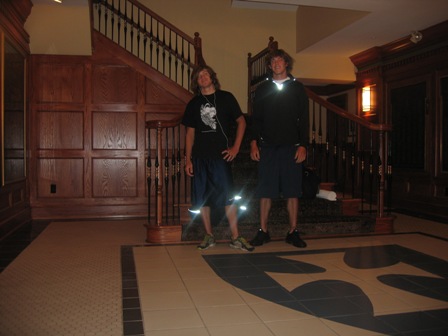 The KU Sigma Chis were amazing hosts, but we were a little envious of their house, it was a step up from the Willamette Chapter.

Click Below to Continue with Blog II.
http://www.jamesandgrantdoamerica.com/index.cfm?fuseaction=content.display&pageID=51